Interview By: Brigit Haugen

Photos By: Brandon Marshall

Sonic Excess: Hey Cam, how's it going?

Cam: Pretty good, but we had RV problems.Luckily we still have our van with us, and we are driving it to meet up with the RV. So we haven't missed any shows yet.

SE: That's good to hear. Now what is 3 INCHES OF BLOOD doing to prepare for the Mayhem tour?

Cam: Basically we've been preparing for it by doing other shows beforehand. We only had about a week off from our last tour before this one started, so I think we are pretty warmed up. We were just over in Europe, and we were traveling in a van and doing lots of overnight drives. You know, roughing it a little bit, more than we usually do. So I think that hardened us up a little bit. But here, it will probably be a little easier travel wise. We will have a lot more space. But no, nothing out of the ordinary. We do what we normally do, like we prepare for any other tour. I think the only difference is we have to load up a lot more stuff, and it will be strenuous at times, because it's going to be really hot in a lot of places. So we are trying not to burn.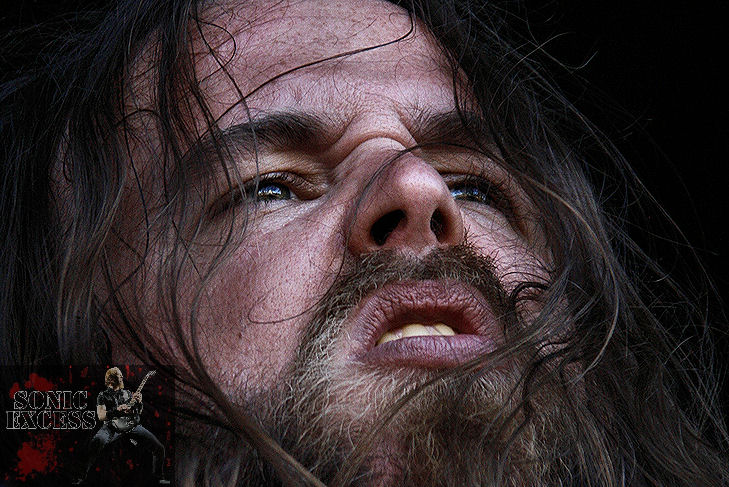 SE: Do you enjoy playing festivals more, or the intimate club settings?
Cam: I don't know. They are really two different experiences. You can get the same really good energy in any kind of setting, but the overall feel of being out there at festivals, which are usually outdoors, compared to a club, well there are different elements going on around you. But I think it all comes down to how much the fans are really into it. You know it's our job to get their energy up. I necessarily don't have a preference. I can get really stoked on either one.
SE: I guess it all depends on how the audience is then?
Cam: Yes, definitely. Usually ,at a festival there are already a lot of people. It might be a bit easier to get them going, compared to if you have a small crowd, because I think everyone is already feeding off each other at a festival setting. I think you've got a harder job if you are the first band playing, because it's up to you to really set the tone. There will be days where we are the first band up on stage. It's going to be a bit of a challenge, but I think we are up for it. We've definitely played enough shows where we were on first.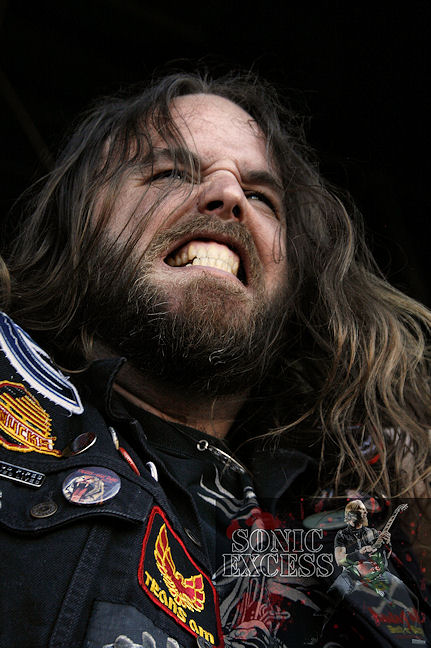 SE: How do you think the ROCKSTAR ENERGY DRINK MAYHEM TOUR will compare to OZZFEST?
Cam: Hmm, I don't know. There are a lot of different bands than there were on OZZFEST, but there are also a couple bands who we remember from OZZFEST; like LAMB OF GOD and HATEBREED. We have this familiarity, and we know these guys really well, but I guess we have to wait and see how things will operate. OZZFEST was a lot of fun. Talking to bands who have done the Mayhem festival last year or the year before, they all said it was a really good time. So, I am sure we will have a very similar experience.
SE: You mentioned LAMB OF GOD and HATEBREED. And, once again, just like with OZZFEST, you guys are doing the off dates together. How did this come about?
Cam: Well, each other's camps were talking about putting together a package for the off dates. We got asked to do it, and we said yeah. I think the opportunity presented itself, and we said yes. We had a blast with those guys. So, naturally, we wanted to do that again, and we are glad that they also wanted it again.
SE: After this tour wraps up, will you be coming back on a headlining tour?
Cam: At the moment ,our plans are kind of being worked on. We don't have anything being set in stone, but there are a few options being discussed. But, we are not entirely sure.
SE: You toured relentlessly after the release of Here Waits Thy Doom. How did your fans react to the new album?
Cam: Very well. I think right across the board it's been really positive. Although we are not getting all positive metal reviews for it, I think we've gained a lot of new fans from it as well. Our already loyal fans really like it, and people in other places and parts of the world are starting to take notice. There is a definite shift in opinion, overall, in Europe; both fan and media wise. I think we are coming into our own, and people are starting to take us more seriously over there. It's been a bit of a journey point album for us, but it's not like we set out to make it that way, you know. We did things a lot differently, but we tried to approach it like no bullshit. Let's just write a good record and not fuck around.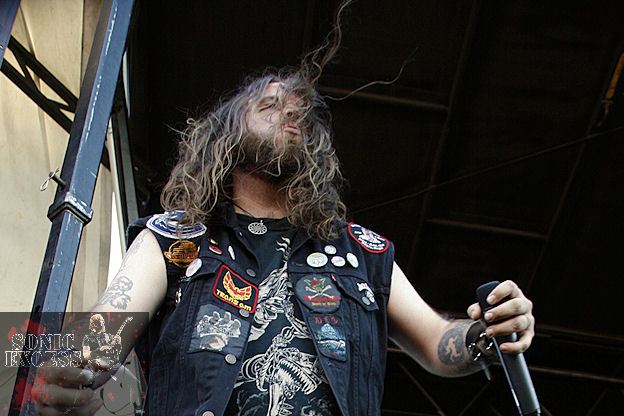 SE: Some might say that Here Waits Thy Doom was more of a blend of different styles and not as aggressive as Fire Up The Blades. Can we expect a more toned down 3 INCHES OF BLOOD from now on?
Cam: No, actually not. I think maybe that opinion stems from the production on it. The production doesn't necessarily mean the songs are less hard hitting to us, because our influence comes mostly from traditional backgrounds. We kind of went back and tried to make a record that is more natural sounding, rather then compress everything, trigger the fuck out of the drums, and edit everything to sound super precise; but rather to sound real, because we don't do any tricks live. We have guitars, amps, drums, and vocals, and we wanted to reflect that more in the recording.
SE: After Justin (guitar) took over the harsh vocal duties from Jamie, do you think it changed the sound of the band?
Cam: I'm sure that's going to happen. He doesn't sound the same. He wasn't trying to emulate Jamie anyway.
SE: Speaking of Justin, he and Shane (guitar) recorded all of the bass tracks for the last album. Any plans on doing this again?
Cam: We haven't decided yet. I think we will just focus on writing the songs first, and then we are going to decide on who lays down what instrument.
SE: 3 INCHES OF BLOOD released the deluxe edition of Here Waits Thy Doom. What does the disc include that the original didn't?
Cam: There are four bonus tracks on it, including the free covers we recorded, plus the bonus track that was only available on the Japanese release. Plus, it comes with a bonus DVD with music videos, some Fuel TV performances, and some little webisodes that we have done as well.
SE: And now the million dollar question, when can we expect a follow up to Here Waits Thy Doom?
Cam: Well, whenever our touring schedule permits us, and we have a little bit time off to write. Then we will have a better idea of when we are going to get it out, but we will definitely have it out some time next year.
SE: So, did you already start on songs, or have ideas in your head?
Cam: Yes, there are definitely ideas floating around, but we haven't quiet gotten down to sitting in the jam spot for days at the time and actually banging them out. But yeah, the guys are always writing riffs in their heads, jamming backstage, and what not; getting riffs going.
SE: You recorded the show in Vancouver this year. Any word on the live DVD?
Cam: Not at the moment. It's going to be a lengthy editing process, both for the audio and video, but, in the meantime, we are trying to get our next video for "Silent Killer" out there. We filmed the video first, and it was the same filmmakers. So that's their priority at the moment, and we will move on to the DVD stuff after that.
SE: Your scream has been compared to the likes of ROB HALFORD and KING DIMOND. Did you have any training for your voice or take voice lessons?
Cam: I never had any training, whatsoever. Somehow, I figured I could sort of do it, and then I had to train myself to control it and to be consistent. It was a self exploration to see where my abilities were and to see how well I could do. When I joint the band, it was still a developmental process, and it was more like a learn on the fly kind of thing at first. I had some ideas, for a while, that I could sing those high notes, but I think I have gotten better at it as the years gone by.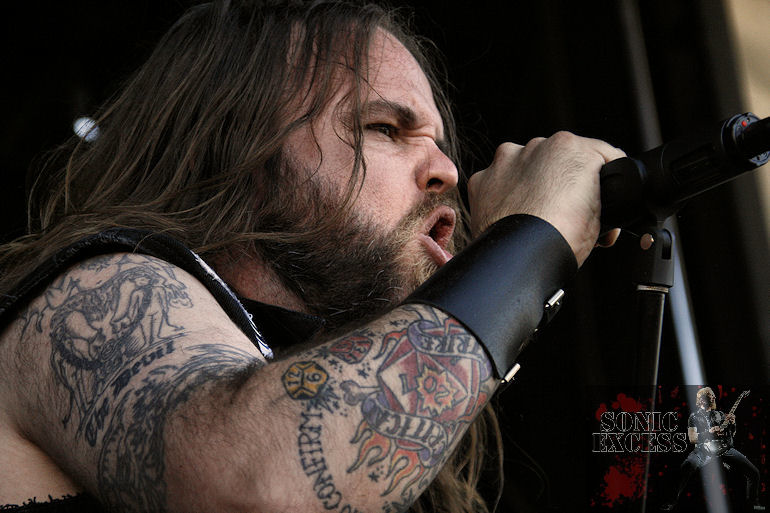 SE: You guys were in Europe earlier this year as part of the "Bonecrusher Tour". Do you see a difference touring in North America compared to Europe?
Cam: Yes, sometimes, but deep down they all are just metal fans. There may be a language barrier, and some European fans are more blunt and are not afraid of telling you their honest opinion. I don't think they are trying to be malicious about it, but sometimes they are really to the point like: "Oh yeah, you guys played better last time you were here", and things like that. I am sure lots of different bands will tell you that. But they are out there at the gigs and are very appreciative of the music. It's a different experience for us, because almost every day you are in a different country. That's rather strange, but it's cool. But when we play the shows, it's still metal fans in front of you, and they have a good time.
(At this point I had to stop myself from laughing, and told Cam that I know exactly what he is talking about. Since I'm German, I have been known to do the same thing; must be a European trade. HaHaHa)
SE: Thanks for the interview man. Any last words to your fans?
Cam: Hope to see you around at the Mayhem tour. It's going to be good times, and we will be talking to a lot of people. So come say hello. We will be out in the crowd, and we want to meet you.