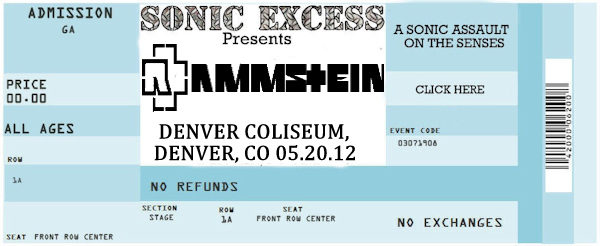 Review and Photographs By: Brandon Marshall
Rammstein has been a much talked about band years, not due in part of the musicianship of their German industrial unique blend of Neue Deutsche Härte, but for the bands over the top and elaborate stage shows that have been raising the bar for what was thought possible during a live performance. While supporting Rammsteins "Greatest Hits" album Made in Germany 1994-2011, Rammstein completed two legs of their European tour and one throughout North Amerika. On May 20th Rammstein performed for over 12,000 fans at the Denver Coliseum in Denver Colorado for a dynamic stage show that will not soon be forgotten by those in attendance.
At approximately 8:45, a large catwalk 15 meters in length that was suspending from the ceiling began to lower while blowing out steam, you could hear the gears spin and metal clunking from the decrepit and tetanus riddled bridge as it lowered over the audience. The members of Rammstein were led by mysterious hooded torch bearer and walked down a row into the area as incantations in the background played over the P.A. "Masked Ball" from the 1999 Stanly Kubrick film Eyes Wide shut provided the entrance theme and suited the gloomy and foreboding atmosphere quit well. As Rammstein made their way through the audience and to the catwalk, the anticipation and excitement was building, this was one of the most tense scenes I had ever witnessed during a concert. Rammsteine took their time while walking from the catwalk to the stage, but when they had arrived, the mysterious hooded fire bearer had lit two touch columns both stage right and left that reminded me of a twisted version of the Olympics games all the while the members of Rammstein standing shoulder to shoulder. After witnessing what had been the most spectacular and grand entrance I had ever seen, it was time for Rammstein to set Denver on fire.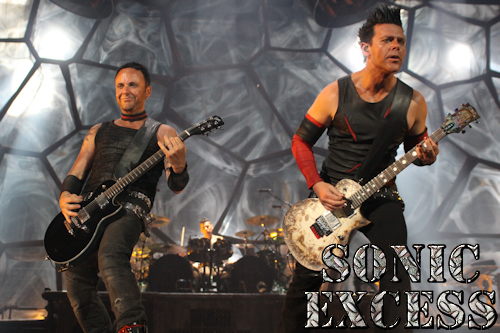 Opening with the track "Sonne" form their 2001 album Mutter, and once frot-man Till Lindemann hit the chorus, the audience was almost as overpowering as the band while flames shot up from the front of the stage. The Barratone voice of Lindemann and catchy hooks of the band echoed through the area the whole night with some help from the over enthusiastic audience. The stage set was drab and dismal with industrial power fans, a lighting rig that would rise a retract, that resembled what one might see while staring up in an operation room and several changing backdrops. The stage it's self was rusty and worn, the set reminded me of being in a still functional 18th century factory. Till did not address the crowd, but with his looks and grand gestures, that said enough. With his dominating stage presence, Till is intimidating yet comical front man at times. While Christain "Flake" Lorenz, keyboard rig was actually a treadmill that would turn on and off periodically, Bassist Olli Riedel was positioned far back stage left for most of the set and only came in front for cretin occasions while guitarists Paul Landers and Richard Kruspe were front and center at times. One thing I have learned about seeing Rammstein live, is that when you see a member of the band disappear, you know something interesting is about to happen. During "Feuer fre!" the bands pyrotechnic crew strapped on what I thought was gas masks to Till, Paul and Richards, I thought this was a bizarre wardrobe change but in-fact, the device allowed them to blow flames and for the finale, Till, Richard and Paul formed a pyramid and spat fire overhead.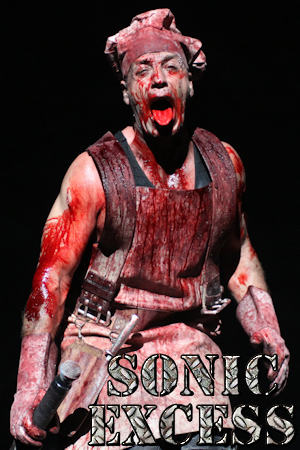 A personal highlight for myself was "Mien Teil". After an extended guitar dual between Paul and Richard, a cauldron arose from below the stage shrouded in smoke that Till had pushed across the stage while dressed like a mad butcher covered in blood complete with a chiefs hat and apron while wielding a butchers knife microphone. After removing the lid off of the giant cooking pot, Flake popped his head out only to hide one Till came running with a flame thrower that roasted the kettle. After several attempts, Till then signaled one of his pyrotechnical crew members and was given an even larger flame thrower with a throttle that shot across the stage, Flake jumped out of the pot while rigged with small explosions and flares, ran across the stage. Sadly, I had to run to my vehicle and return my camera bag as is the policy of the promoter, but when I returned, the suspension bridge was lowered once again along with a much smaller circular stage that hardly had enough room to accommodate the band. Rammstein crawled on their hands and knees from stage A to stage B while Till was whipping his band members. This was the only point in the evening that seemed more of an intimate setting rather than a large arena filled with fire and explosions.
The band played "Bück dich", "Mann gegen Mann" "Ohne dich" on the second stahe in the middle of the arena, and for those that surrounded the circular stage, it must have seemed like a barroom concert with the exception of the crowd surfers. The band returned to the main stage and performed crowd favorites such as "Ich Will" and the tong and cheek parody on American pop culture "Amerika". For Rammstiens encore, "Engel" Till came onstage with folding metal angel wings strapped to his back. Once spread open, they had an impressive wingspan of about 5 meters that shot fire from each wing tip.
Rammstein closed out the set with "Pussy" complete with an oversized inflatable penis that Till shot white foam into the audience. Instead of the traditional bow, the band got on one knee and lowered their heads, Till said "thank you" and in under two hours, Rammstein left a lasting impressing in Denver that will be talked about for years to come.

Personally, I have been to 100's of concerts since 1996 and have never witnessed a spectacle quite like Rammstein, I don't think any band could ever put on a live performance quit like Rammstein. I left the concert with an adrenalin buzz that took me several hours to come down from, the blatant disregard for the safety of one's self has given me a whole new respect for Rammstein. I can write about what I had seen, but the only way to truly understand a Rammstein concert is to whiteness firsthand.
Sonic Excess images and staff authored work are copy written and are not to be used without the written permission of the Editor(s).