A Taste of Extreme Divinity Tour

With: Hypocrisy, Scar Symmetry, Hate, Blackguard and Swashbuckle

The Galaxy Theater: Santa Ana,CA 5.14.10

House of Blues Sunset Strip: Hollywood,CA 5.13.10

The "A Taste of Extreme Divinity" tour was stacked with such great acts that I decided to take a road trip to sunny California. I went to the shows at the House of Blues in Hollywood and the Galaxy Theatre in Santa Ana and both shows were great, awesome, magnificent,…well you get the drift.

Even though the performance of some bands was plagued with technical difficulties at the Galaxy, the crowd made up for it big time. And to be quit honest, the venue in Santa Ana was packed full of metal heads which the HOB lacked the day prior; maybe because it was a Thursday night in LA, who knows.

As soon as doors opened, everybody rushed to the front of the stage. I missed SWASHBUCKLE in LA, so as soon as the roar of the crowd indicated they were on stage, I went on down.

Being the opener band they had the task of warming up the crowd for things to come. With a parrot on the shoulder and the outfit's to match their music, these Pirates" out of New Jersey wasted no time and did just that. Since this was my first time seeing them I didn't know what to expect, but the audience seem to be familiar with their set and were singing along by the second song.

Overall it was a good performance, maybe not my cup of tea, but everyone had a great "jolly" time.

Next up were two local bands, CREPITUS and MICTLANTECUHTLII. I listened to the former a bit and they were actually pretty good but for the second local band I decided it was time to get a drink and have a cigarette. Wow, who comes up with band names these days?

While still outside and socializing with my friends and Jonas from Scar Symmetry I heard that BLACKGUARD took the stage. (On a side note, go to Scar Symmetry's MySpace site and check the picture with Jonas and his bike; which he rode everyday)

BLACKGUARD is best described as folk/pagan music with melodic death metal elements; this Montreal based sextet is no stranger of making sure everybody has a good time. I actually had the pleasure of seeing them live before and knew exactly what to expect.

Right from the get-go the guys in front of drummer Justine took total control of the stage. Energetic as always, front man and vocalist Paul was all over the place and smacking hands with the fans in the front row. They had an awesome set and the crowd went wild when the song "This Round's On" Me was announced. I heard someone say that they like them better the more they see them, and I have to agree with that.

Next up was the band which was the whole reason for my trip to SoCa in the first place. The country best known for their Kielbasa and Pierogi brought us another guilty pleasure in the form of HATE. This polish quartet, hailing from the capitol of Warsaw embarked on their first North America tour since ATF Sinner formed the band in 1990. And to say I was super stoked to see them live is an understatement. Unfortunately there were some technical difficulties (by the house) and their set was cut way too short. Nevertheless, it was completely obvious that tons of metal heads came out just too finally experience this extreme, brutal, unstoppable force. And disappoint did they not.

HATE played their limited set with the aggressiveness that I expected from them. Blackened death metal with such intensity on one side, but still flawlessly executed to the last small little detail on the other.

The vocals have the clarity of Peter's (Vader) but are much deeper. ATF Sinner and Destroyer know how to keep it interesting; spewing out memorable riffs and constantly switching the pace all the while retaining the brutality of their music. Hexen dominated behind the kit, period! He constantly changed up his patterns with such great style. His drumming perfectly complimented the incredible guitar work, and Mortifer's bass tied it all together. The crowd rewarded them with relentless head banging, nonstop moshing in the pit and a sea of fists and devil horns. I already liked the song Omega before, but fell in love with it hearing it live.

Mark my words, this newest import from Poland will give their countrymen Behemoth and Vader a run for their money, and I can't wait to see them live again.

By the time I finished my drink, had another smoke and socialized a bit more it was time for Sweden's SCAR SYMMETRY. Not that getting the stage ready for the co-headliner went fast, but those of you who know me in real life know that I am a huge "socializer".

This was the first time the band performed in North America with their two new vocalists who replaced their prior singer Christian a couple of years ago. Folks didn't know what to expect but I knew what we were in for, since I caught them live in Germany last year.

The entire band has so much energy on stage it is unreal; no one is standing still. They just love playing live and it shows in their performance. I am pretty sure that Lars and Roberth won the audience over with their ability to intertwine their vocals.

The setlist was really good, oldies but goodies and songs from their newest album; The Illusionist, Pitch Black Progress and Noumenon and Phenomenon just to name a few. Fans were singing along with almost every song and everybody was enjoying themselves. SCAR SYMMETRY is coming back later this year as support for EPICA, so if you missed them on this tour, you will have another change to see them.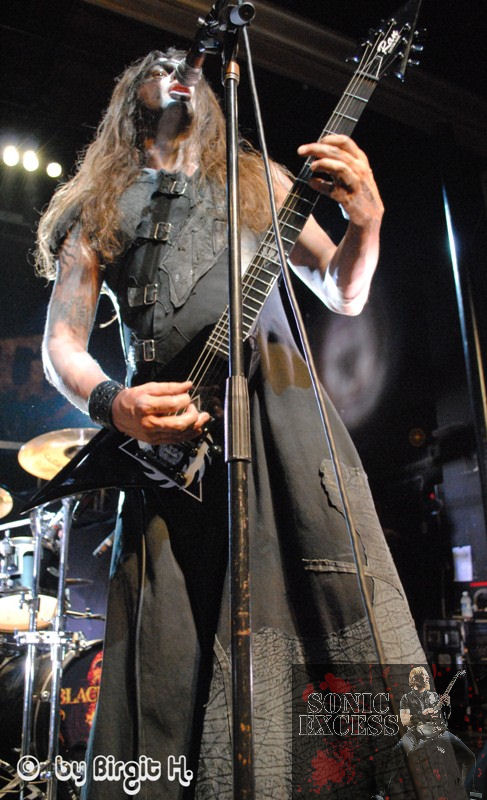 Then it was finally time for the headliner HYPOCRISY to show the Santa Ana metal heads what it really was all about. I haven't seen them in a few years and was glad I was able to see them again, because this awesome tour bypassed the Rocky Mountain region, namely Denver.

The room went pitch black, Horgh was already behind his drum kit, and under a sea of bright white strobe lights, the rest of the band around Peter Tägtgren entered from backstage. The whole place went berserk and even though it was already past midnight, the crowd showed absolutely no sign of fatigue. About 45 seconds into the first song I had to jump out of the way because the crowd surfers were coming over the barricades. On that note, the Security in the Galaxy Theatre did a really good job controlling the mayhem in and out of the mosh pit.
HYPOCRISY was as strong and energetic as ever. The guys played each song with such precision, while still head banging and shaking those long hairs all over the place; a sight that was a delight to watch.

Peter showed his fans that the proof is in the pudding. His vocals were a class act that night and I don't even have to mention his guitar playing. Horgh was the machine behind the kit and was complimented properly by Mikael on bass and Tomas (Sanctification) as the second guitarist.

HYPOCRISY Valley of the Damned, Weed Out The Weak and Hang Him High from the new album, and also the crowd pleasers like The Final Chapter, Killing Art and Warpath. Kick ass is the wording that best describes their performance and I'm pretty sure everybody went home satisfied.
In closing, I really enjoyed watching all of the bands, some more then others but all of them played with one goal in mind, to give us a bang for our buck.

Review and photos by Birgit Haugen