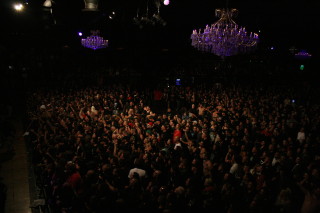 The latest installment of the 'Blackest of the Black' tour came to Denver on 11.01.08, while making it's trek across the U.S. After the tour being on hiatius for several years, my hopes were dashed for this mini-festival. But, much to my susprise, when the official announcement was made I knew it was going to be a great bill.
The opening band, 'Skeletonwitch', should have played last. This is a band that lives and breaths metal. Everything about them is real, and they're more hungry than "Hungry, Hungy Hippos". With a unique mix of thrash metal on top of black/death vocals, and only one full album under their belts ("Beyond the Permafrost"), 'Skeletonwitch' proved to be serious, credible musicans. Hopefully and deservedly, they will come to dominate the underground. The only problem was that they were only allotted a 20 minute set, not nearly enough time to get your fill of these guys. 'Skeletonwitch' thrashes like it's 1988 and parties like it's 1999. CHECK THIS BAND OUT!!! Here's the band's link: www.skeletonwitch.com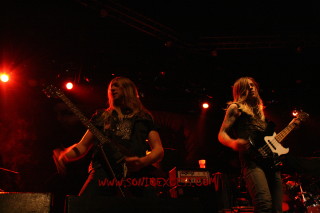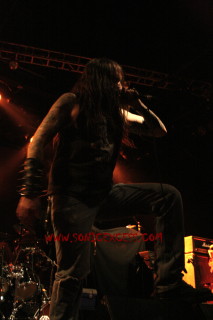 Next up on the bill was metal-core band 'Winds of Plague', who kept the crowed riled up with very high energy.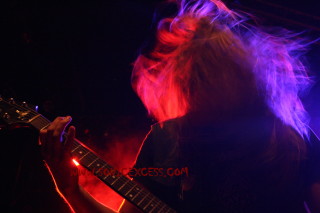 'Moonspell' next took to the stage and proved to be yet another major highlight. In support of their recent release, "Night Eternal", 'Moonspell' is not another band just going though the motions . Hailing from Portugal, 'Moonspell' has established themselves with a career spanning nearly 20 years. Their unique brand of black metal sets them apart from so many posing black metal bands...we shall touch on that in just a few minutes. "Moonspell' hit the stage with a dark and malevolent presence, while somehow presenting a very uplifting quality and an amazing connection with the crowd that the audience gave right back to them. With such a huge catalog of material, this is another band that should have had much more time then they where allowed. A lot of people who have never heard of 'Moonspell' definitely have now, and they are not easily forgotten. It was very interesting to see people really starting to gravitate toward the stage as their set progressed. 'Moonspell' is very talented band. Much thought goes into what they do, and they do it extremely well.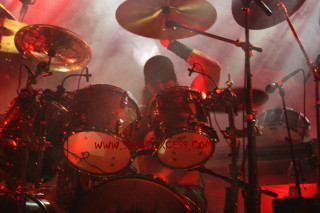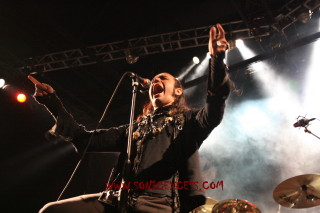 'Dimmu Borgir' received good support from the crowd, but this band came across to me as the Walt Disney of black metal...trying too hard to maintain "the look" with very little substance. Ten minutes into their set, I was bored, so I moved on.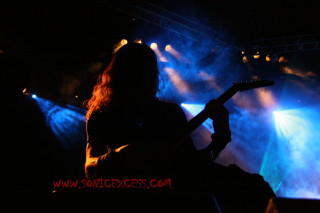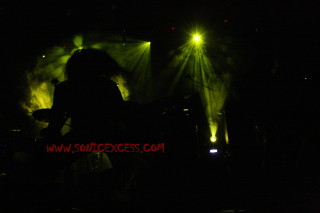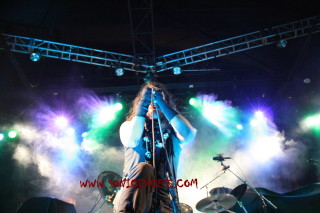 The highlight of the evening should have been 'Danzig'. But, sadly, it was not even close. Playing to a half-full venue, the crowd energy was phenomenal, but Glenn Danzig's on-stage presence was far from it. With his forced, arthritic-like karate moves, that reminded me of a fat Elvis, Glenn's overall stage presence proved to be a major disappointment. For myself, I don't particularly like watching someone in their 50's wear a netted shirt, two sizes too small that looks like he got in the ladies lingerie department, and seeing his man boobs. Danzig's vocals sounded sharp and clean, but came across somewhat lazy. In 'Danzig's' hey-day, Glenn was a dominating front man, but now days he has become a parody of himself that has become laughable. To his credit, the band sounded phenomenal. I have never had much of an interest in his ever- revolving line-up, but the band was very tight. With John Kelly (Type O Negative) on drums and Tommy Victor (Prong) on guitar, as well as Steve Zing (Son of Sam) on bass, who also played with Samhain (Glenn Danzig's previous band), all proved to be skilled musicians. They brought 'Danzig's' set to life. 'Danzig' played a variety of songs from a career spanning over 20 years. Songs like "How the Gods Kill" "Twist of Cain" and, of course, 'Danizg's' only hit "Mother". Personally, I think it's time 'Danzig' hangs it up and calls it a day...while the band, and Glenn himself, still has some dignity.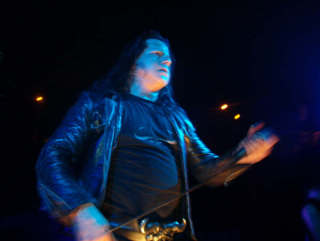 Overall 'Blackest of the Black' was a great show, but I thought that 'Dimmu' should have stayed home, giving another, more deserving band a chance. It's my guesstimate that this will be the last installment of 'Blackest'. I hope you had the chance to see what it was about and had a great time!