Vinnie Paul Is Raising Hell
Interview & Live Photos By: Brandon Marshall
"It's all about the common working man who busts his ass all week and just can't wait for the weekend. When it comes on Friday night, it's time to turn it up a notch and have some fun. That's what the band's about in the first place. We wanted to bring a good time back to Rock and Roll."
Explains Paul who is currently in Europe supporting Hellyeah's second studio release entitled Stampede due out on July 13th.
Sonic Excess: Stampede is set to be released on July 12 in Europe and July 13th in the US. Do you enjoy the anticipation and build-up surrounding an album's release, or do you just want to get it out to the masses as quickly as possible?
Vinnie Paul: Weire definitely excited about the new record, and we are all very proud of it. We just can't wait for people to hear it, ya know? We went out on the road a couple of months ahead of time so we can re- familiarize the fans with the band, and it's been going great! The new songs have been doing awesome, everything that we've been playing. It's just exciting to have a new record come out. We are like a kid in a candy store. We've got a lot more songs to play live now.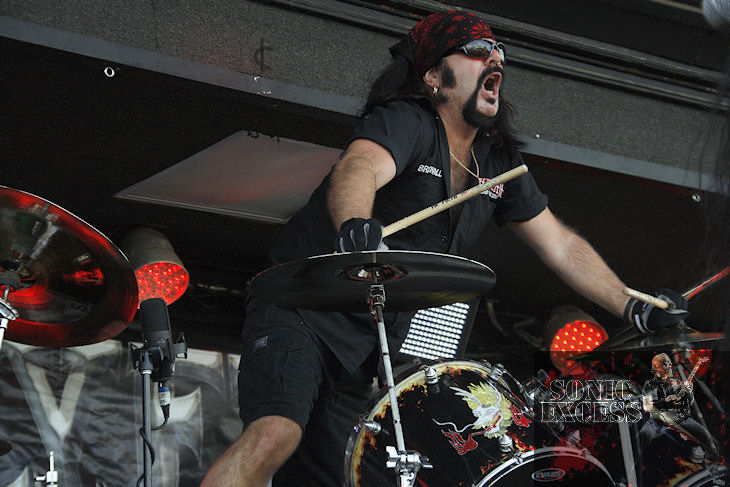 SE: There is also a limited edition CD of Stampede available on Hellyeah.com. Can you tell us about that, and will it be available in stores?
PAUL: Nah, it just online. There is a unique bull skull that comes with it to give the fans a little bit more of collectors item to hold on to. Also, there is a limited addition album cover and I don't think there has been anything like it! As you move it, the front of it changes to different images, and it's something for the collectors and fans to appreciate.
SE: Well I guess we're just going to have to go over to Hellyeah.com and order ourselves one.
PAUL: Come on!
SE: You worked at your home studio on Stampede. Did everyone work collectively, or was there a bit more to it with scheduling conflicts?
PAUL: Na man, we're all there together and it worked out great. We started back around May of last year, and I basically turned my house into a recording studio. I set up my drums in the big living room where I have a 45 foot ceiling. We put all the guitar amps up into the game room and turned one of my bedrooms into a control room. We also put video monitors all around so we could see each other and just started jamming. The first time everyone came down, we did 4 or 5 songs until Mudvane did a six week tour. Then everyone came back, and we did another 4 or 5 songs and finished it. Like I said, we're very proud this record, and it covers a lot of ground.
SE: When Hellyeah went into the studio, did you have a vision of what the record would be, or was the recording process a bit more spontaneous?
PAUL: Everything with Hellyeah is spontaneous. The first record was almost like an experiment. We had just gotten to know each other, and we had great chemistry together. With Stampede, we came into it with a lot more confidence. We knew what the band was all about and what we wanted to do with the music.
SE: Did you produce Stampede as you did with Hellyeah's debut?
PAUL: Ya, we did it the same way. We record everything as we write. That way you capture the nice raw natural energy that goes into everything that you do. The chemistry really works with us. No one came into this band with egos or anything, and we all have a great mutual respect for each other. "t works out good.
SE: As you mentioned before, "Stampede is quite diverse". The album switch backs with slower tempos, then kick up a few notches, with nearly every track on Stampede. Why not release an album that's consistent from start to finish?
PAUL: Ahh, that's like going to an ice cream store and all they have is vanilla. The beautiful thing about music is that it can take you down so many peaks and valleys. A lot of bands forget that and they're just one speed, one flavor so to speak. With Hellyeah, we like to be Baskin Robbins (Ice cream distributor). We want 32 flavors. We're going to take you on a roller coaster ride. We want to take you all over the place.
SE: Hellyeah has a complex style with quite a few fusions elements. If you had to put a label on what style Hellyeah is, what would it be?
PAUL: We are everything from a balls out metal band, like how we were with our previous bands, down to a southern-rock band. Hellyeah is a combination of everything and it's just hard to pin it down. One of the things we really like about this band is that we are not pigeon-holed, creating one style or sound. If I had to say anything, it probably would be a heavy, southern-rock band.
SE: Heavy, rebel rock!
PAUL: There ya go.
SE: Just before we started this interview I was watching the music video for "Hell Of A Time", and it's a great introduction to Stampede. I think it really captures what Hellyeah is all about.
PAUL: That song is all about the common, working man who busts his ass all week and just can't wait for the weekend. When it comes on Friday night, it's time to turn it up a notch and have some fun. That's what the band's about in the first place. We wanted to bring a good time back to rock and roll.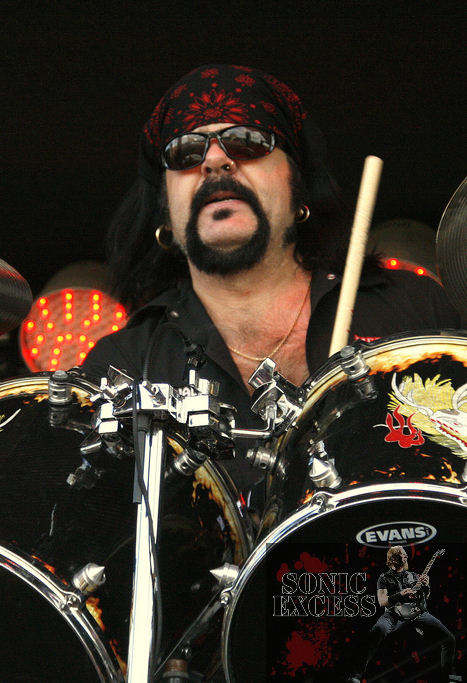 SE: Now does Chad (vocals) write the lyrics exclusively?
PAUL: We write the music, but Chad pretty much writes the lyrics. Every now and then there'll be things that we suggest to him, and he will pick some of them, but for the most part, they're Chad's visions for sure.
SE: Has their been any discussion about a Hellyeah/Mudvayne co-headlining tour?
PAUL: Na man. I think that we would never talk about it with Chad. He gives it his all every show, and I just couldn'tt picture him going up 2 times in one night, but it would be incredible
SE: Hellyeah just performed at the Download Festival for the 2nd time. Do you prefer playing a gig that big in front of 100,000 fans, or a more intimate venue with a couple of thousand?
PAUL: Last night we played to about 200 people in Belgium and it was absolutely amazing! There's nothing like having that intimate vibe. Playing to 100,000 people is a total rush, but it's so hard to reach everyone because there are so many people just so far back. You're far away from them too with the stage and a barricade that is 30 feet out. With the intimate vibe, you know they're getting it, you know they're feeling it, but it's awesome to do them both.
SE: Before going onstage, do you have any pre-show rituals or anything you do to get yourself psyched up?
PAUL: Ya, man. I like to have a couple shots of vodka to loosen me up, and the rest of the guys like to have a couple of beers. We just put on some old school metal like Slayer, old Metallica, Judas Priest, Black Sabbath, Iron Maiden, all of that stuff we grew up on, and it pumps us up. If you can't get up for a show when you walk out on stage and hear the roar of the crowd, you have something fucking wrong with you.
SE: With Hellyeah the cameras are always rolling. Is it safe to say that after you're done touring in support of Stampede Hellyeah fans can look forward to a new DVD?
PAUL: Absolutely dude! We have so much great footage already. Too many classic moments not to be filming. The reason why you roll a camera is to catch those moments man. Nothing of what you see is preconceived. It's not like a reality show where they have it all set up, staged, and propped. All the stuff you see is really happening, and it's just a day in the life of Hellyeah.
SE: What is going in with Big Vin Records? Has running a record label given you a new perspective, and will you be signing any other bands?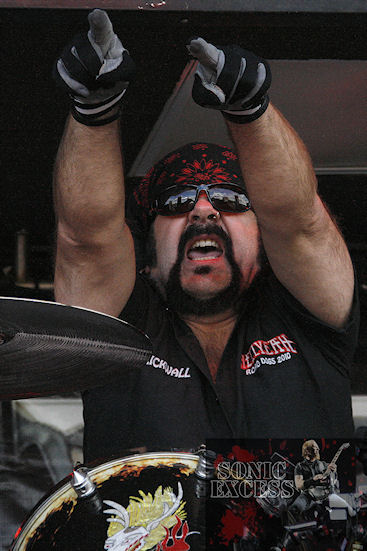 PAUL: Well.. I found out that the music industry is a very difficult industry right now. It's just hard to sell records. People can download what they want and it's very tough. I put out a band last year called Seventh Void, which is Johnny Kelly and Kenny Hickey from Type O Negative, and it's an amazing record. It's going to be released over in Europe in July. I put out Dime's book, and Rebel Meets Rebel (Collaboration with Dimebag, Vinnie Paul, Rex Brown of Pantera, and David Allen Coe) on the label. It was kind of a way for me to get back into the business before I started playing again. Right now the label is pretty much on hold, because Hellyeah is going to be on tour for the next two years non-stop. But once I wrap that up, I'm going to get back and look for some bands.
SE: Can't wait to hear more. Now what else do you have in the works?
PAUL: Well, I have a cook book that I'm working on right now. It's called "Drumming Up An Appetite With Vinnie Paul", and it has a picture of me on the cover sitting behind a drum set holding a turkey leg and those are known as...drum sticks. It has a lot of great recipes, some tongue and cheek humor, and a lot of great pictures. I think people are going to find it fun to check out.
SE: Now when can we expect that in stores?
PAUL: I'm hoping to have it out by December.
SE: Any drink mix recipes in it?
PAUL: I don't have any drinks in it yet, but that's a good idea. I appreciate that. I might have to toss a few drinks in it.
SE: Alright, Vinnie's bartending book. That dragon logo that you have on your hat and drums, what is the origin behind it?
PAUL: Ya know, I loved that hat when I picked it up, and I bought the last ten that they had made before the company went out of business. It's just kind of been my signature trademark ya know? When I moved over to Ddrum, I took a moment to deicide what I wanted to put on my set and that's my trademark. People know me by that.
SE: What are some of your favorite drumming moments with Stampede?
PAUL: Humm. Favorite drumming moments on Stampede...probably the breakdowns on "Cowboy Way", and I really dig the drumming on "The Debt That All Men Pay".
SE: Who are some of the modern drummers that impressed you?
PAUL: The dude that made me really want to kick is Tommy Aldridge, and he has always been my hero. He played with some amazing bands. He played with Ozzy, White Snake, and Ted Nugent. He is just a phenomenal drummer, and what I heard he could do with his feet some people couldn't do that with their hands back in the day. I molded a lot of my drumming after what he did.
SE: He used single kick too, didn't he?
PAUL: Na, he was two.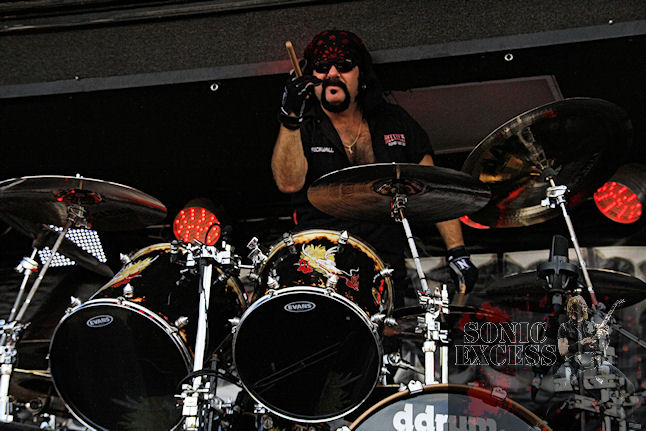 SE: You do have one of the most distinctive style and tones. How many years did it take you to find your signature style?
PAUL: The sound that I came up with in Pantera, back in the day, was strictly by me becoming a studio engineer on top of being a drummer. When I would go into the studio, I hated the way they made my drums sound. They sounded like cardboard boxes. My dad owned a recording studio, and I would go in and start messing around with the knobs, figuring things out. Then, all of a sudden, I found that sound that I have signaturely used though Pantera, and my other bands, through the years. Being more then just a drummer is always an added plus. Being an engineer and producer has really helped me though my career, and that's how I nailed down the sound that I have been trademarked for.
SE: Your father was a country music producer. Did he have you in the studio when you were a kid, giving you insight?
PAUL: Not really that much, but once we started playing music and recording our own demos, he would definitely be around and teach us everything he knew. I started reading mix magazine quite a bit, and anything engineering that I could get my hands on.
SE: Pantera's "Cowboys From Hell" is coming up on 20 years, and I understand there is going to be a re-release.
PAUL: Yeah, Atlantic records is re- releasing all the Pantera stuff, but right now it's "Cowboys From Hell". Everything looks really great (layout and artwork), and everything is re-mastered up to date with modern sounds and tones. It has some new pictures. Its going to have some demos with it and some personal stores from the band, so it will definitely be a special collector's item for the fans.
SE: Now, when is that coming out?
PAUL: I believe it's coming out at the end of the year.
SE: Any unreleased songs or live tracks?
PAUL: Yeah, I believe there is going to be some live tracks and some stuff that people have never herd.
SE: Will you be re-releasing "Power Metal" or all of the early Pantera albums?
PAUL: I wouldn't mind re-issuing them, but there are so many bootleg versions floating around. So it would be kind of pointless.
SE: I really want to thank you for talking with us today. Do you have any last words?
PAUL: I would like to say pick up Stampede, we are all very proud of it, and come see us on tour. We are planning on being on tour for two years, and hopefully we will be hitting your city, and you'll be able to get the Hellyeah experience. Thank you.