Immortal Leaves Behind The Permaforst in Denver

Review By: Birgit Haugen

Photohraphs By: Brandon Marshall

Sonic Excess images and staff authored work are copy written and are not to be used without the written permission of the Editor(s). ©

February 24th, Denver- Ah, Colorado in the winter time! We have tons of mountains, one of the best ski areas in the nation, the sun rays feel hotter here because of the altitude, so what is wrong with this picture one might ask?

Well, simple, a lot of major touring acts will skip our little slice of heaven because the roads to get here during the winter month suck!

And for that reason alone I was in almost in shock when IMMORTAL announced their mini tour of 6 dates and Denver, CO was one of the chosen cities.

Hailing from Norway and formed in 1990 out of the ashes of Old Funeral and Amputation, Immortal is credited to be one of the leading founders of the "second wave of Black Metal" (with Bathory and Hellhammer being the first wave). But the one thing that sets them apart from their peers of the genre is that their lyrics do not revolve around Satanism, but rather the dark and evil side of an imaginary world called Blashyrkh.

To the dismay of their fans the band broke up in 2003 but decided to officially give it another try in 2007 and recorded their latest album "All Shall Fall" in 2009.

While Abbath (guitar, vocals) is the only founding member left the mystic of the band does not suffer. Horgh (Hypocrisy) who drummed from 1996 to their breakup is back behind the kit and they enlisted Apollyon to perform the bass guitar duties upon reuniting. The other founding member Demonaz, while not performing live with Immortal, is still very much active. Since his diagnose of acute tendinitis in 1997 he had to lay down his guitar and is solely responsible for lyrics these days.

But enough with the history lesson and fast forward to February 2011; the mighty Immortal was once again in town. I was told the last time they played here was in 2002 so this gig was long overdue.

While the Summit Music Hall in downtown Denver, CO was not completely sold out I would estimate it was almost packed to capacity.

Set change went actually pretty quick since all of Immortals stuff was already on stage. The roadies lifted the covers of the amps and the drum kit, the Immortal backdrop was already in place and the night of greatness was about to get started.

Paula Hogan (Candlelight Records) who was part of the touring crew told me beforehand that there would be tons of stage lights but also lots of fog. And oh my god was she not kidding. I had to duck behind the monitors every now and then so I wouldn't suffocate; kudos to all of the fans in the front row who endured the smoke for the entire set.

Horgh was the first one on stage and greeted the audience with his fists pumped while hovering over his kit. Abbath and Apollyon slowly appeared thru the fog while the intro was still playing. All Shall Fall was the name of the tour (and last album) and appropriately this was the song Abbath and Co started their 90 minute set with, and didn't miss a beat going straight into "Sons of Northern Darkness".

They played 4 songs off the latest album and the rest were mainly songs from At the Heart of Winter (1999) on forward with the exception of "Grim And Frostbitten Kingdoms" (1995). It was nice to hear them play "Solarfall" right in the middle which was needed to give everyone in the audience a minute to catch their breath.

The last song of the night was "The Sun No Longer Rises" from their 1993 album Pure Holocaust.

But the crowd didn't mind at all and really got into each and every song. By shear statue of the name, Immortal demands respect and they sure as hell were getting it that night. A sea of relentless head banging, metal horns up high in the air fans was soaking up each and every word, riff, blast beat and gesture that they threw at them.

Horgh was just a machine behind his kit performing at his best while executing those blast beats with ease. I am glad he is still with Immortal because in my opinion he is one bad ass drummer.

The most active member on stage was by far Apollyon. He was plugging away on his axe while head banging the entire time. It was a smart move by Abbath to take him into the fold because he sure knows how to play his 5-string which was heavy in the mix that night.

Not enough can be said about the guitar slinging abilities of Abbath himself. It was joy for all in attendance to watch him whip out those solos and memorable riffs. His vocals that evening were a delight to everybody's ears as well. The rasp of his voice came over crisp and clear without feeling muffled. Performing as a three piece can be challenging and not that many bands can pull it off but make no mistake; Immortal is undeniably one of them.

Single support on the tour came from the Texas based Black Metal outfit Absu. And let me tell you, it clearly can't be an easy task to open for an icon like Immortal but those guys pulled it off with ease. The band has been around on and off since the early '90s and to my dismay I never even heard of them. But they sure got the crowd going with their 45 minute set. Technical black metal with thrash riffs without sounding like any of the new comer bands these days made it a delight to listen to. Unfortunately their second guitarist quit before the tour which made their live performance sound a bit stale. One thing that utterly impressed me was that their drummer took over the role of lead vocalist. Respect! I will definitely keep my eyes open for the next time they are in town.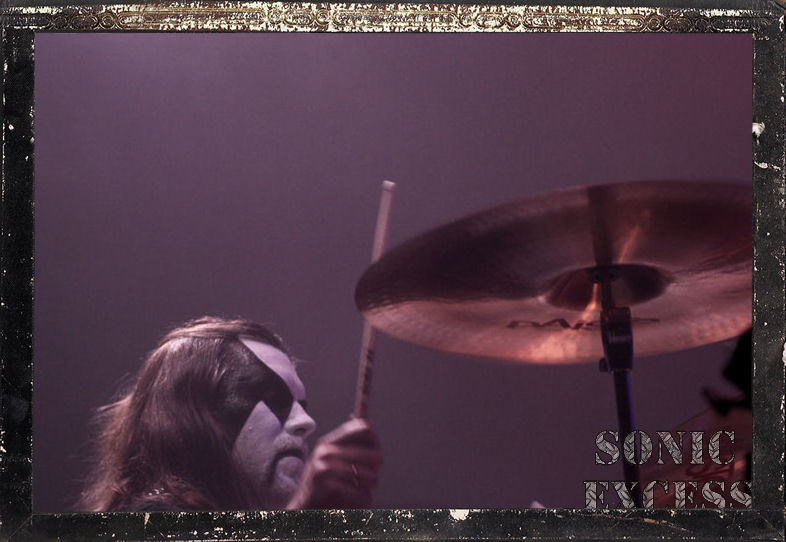 After everything was said and done the crowd left with a feeling of accomplishment; being able to watch one of the last great Black Metal bands around. The only downside to that gig was the unavailability of merchandise. Get it, it was the second to last gig but hey Immortal, if you only play 6 shows bring enough merch to last, or order more and sell it online afterwards.
But other then that, it was clearly an evening of memorable proportions for all of the fans and even those who just came out to see what the commotion is all about.