Megadeth, need I say more? If you need me to write a summary of this band, then you need a history lesson in Metal 101. So, I am going to fast forward 25 years since their landmark debut album, "Killing Is My Business...And Business Is Good". Megadeth is still putting out groundbreaking material, with the release of "Endgame" this past September, and are hitting the road for a US tour and a rumored second leg with Slayer and Testament. Added to the ranks of a legendary roster of guitar players is Chris Broderick, former Nevermore shredder and a member of Megadeth for nearly two years, who recorded his first album with Megadeth and has given Megadeth a new sound.
Sonic Excess: The first thing I have to ask you about is the cancelation of the Canadian Carnage Tour where Megadeth was on the same bill with Slayer. When will the dates be made up, and how is Tom's back doing? (Tom Araya, Lead Singer/Bassist of Slayer, needed emergency back surgery and tour dates were cancelled at the time this interview was being conducted.)
Chris Broderick: To tell you the truth, I don't know. I hope that we can get back up to Canada sometime soon, and I wish Tom the best.
S.E.: Well, Megadeth has always done right by their fans, so I'm sure it will be soon.
C.B.: Actually, Canada has always been great to us, so I have no doubt that we will be back up there soon.
S.E.: Megadeth's US tour kicks off on November 14th. How many new songs from "Endgame" will be added to the setlist, and what has been the crowd's reaction to new material so far?

C.B.: As far as the reaction, it has been great. It has been quite surprising to me, because usually when I am up on stage and playing music I'm trying to put on a good show. But I do tend to notice things that people do, whether it's throwing fits in the air or crowd surfing. The big one for me is when people are singing along with the lyrics. When you see that, it's a good indication that people like the songs and genuinely wants to hear them. I have seen that in both of the new songs we are playing live, those being "Head Crusher" and "1,320", and I have been very impressed by that. With Megadeth having such a big catalog and long history, for the fans to want to hear the new material is great.
S.E.: Megadeth is missing a lot of major cities on this first leg, so I'm guessing more tour dates will be announced.
C.B.: Right, you can expect them soon.

S.E.: Today (11.06.09) I heard a rumor that Megadeth will be touring with Slayer and Testament in the US. Can you put the rumors to rest or confirm?

C.B.: I read that myself, but I have not heard anything to that effect. So, I cannot really comment on that.

S.E.: Well, we can only hope and just keep checking out Megadeth.com, and the same for South American and European tour dates.

C.B.: That will be the first place it will be. It's funny, because a lot of the time I find out my information though round about ways as well. So, a lot of times the fans will know before I do.
S.E.: You just released your first album with Megadeth back in September. What was the process like for you during the recording of "Endgame"?
C.B.: It was very cool. Coming in from the bands I came from, I would have a very strict deadline and a limited amount of time for recording. When we came into "Endgame", it was very cool because we could start with just a simple riff, and we all record with the drums, bass guitar, listen to it, and then just start arranging from there. We had a lot of time to listen to what we were creating and rearrange it. That was a luxury I never had.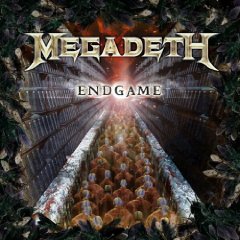 S.E.: I thought that the album just flowed. So, everyone just played off of each other?
C.B.: Yeah. Again, it was because of that luxury of time, and everybody got a direction of where a song was going and altered their parts accordingly
S.E.: Dave seems like he has a strong work ethic and expects nothing but the best. Were you a bit intimidated?
C.B.: Well, there were some tense moments, but that's when I had my own personal goal I was trying to meet. I guess what I would call a personal deadline for me, like executing solos and making sure they where what I wanted. That is where the stress came from. It was self-induced in this case, but it was relaxed overall. Dave does expect a lot, but, at the same time, he was happy with what I produced.
S.E.: You are also a classically trained musician. How did you incorporate your personal style into "Endgame"?
C.B.: There were some personal touches, like with "The Hardest Part of Letting Go...Sealed With a Kiss", and then there were a lot of arrangements, in terms of the harmonization process, melodies over the top of rhythms and stuff like that. A lot of the theory knowledge I have, concerning how to harmonize and things of that nature, came into play at that point
S.E.: Were more than 11 songs written for "Endgame"?
C.B.: Yeah. There were a couple of demos that we decided not to put on "Endgame", and I think there might be three demos. There are at least two.
S.E.: When you first heard that you had a top 10 album, whatwas your initial reaction?
C.B.: I was overjoyed. For me personally, having the title of a top ten album is not necessarily the biggest deal, for me it's that people are just digging what we do. That is one thing I stress when I am talking to people is that I love being a musician and just do what I do. I am so fortunate enough to do this for a living.
S.E.: I really enjoyed the video for "Head Crusher". Will Megadeth be making another video?
C.B.: I don't know yet. There are no definite plans as of now, but, if we do, I assume it will be for either "1,320" or "44 Minutes".
S.E.: How has being in Megadeth changed your perspective of being a professional musician?
C.B.: I think, in a way, it really has made me look at the way I present myself in every aspect. I think you can be a great musician, there are some awesome guitarists out there that play for 12 hours a day, but they don't think about the way they are presenting the material that it plays into. That is one area that I think it really helps me. Also, the way I present my playing too. I try to be confident with my playing, so that is one thing it really helped me do.
S.E.: I have seen unfinished photos of the Megadeth guitar you are having custom made. Will this be part of a signature line?

C.B.: No, that is a one off thing. In my mind, it's commemorative for "Endgame", and I kind of wanted it for myself.

S.E.: Is it going to be ready before the tour kicks off on November 14th?

C.B.: I hope so. They are working on it now, so it looks like that there are pretty much ready to spray the clear coat on. So, if they do that today, then it looks like it will be ready for the 14th.

S.E.: You are also a guitar instructor. Have you had any time to give lessons since joining Megadeth?

C.B.: Off and on during the tour break. I have definitely kept teaching, and I still offer lessons to people who are interested. The main thing that I have not done is advertise. That's because I have a backlog of people who are interested. I wouldn't want to have people waiting forever, so that's really why I have not advertised. But, during the break, my long-term students I have maintained.

S.E.: Now, when time does free up for you, can an interested player get in touch with you through www.chrisbroderick.com?

C.B.: Absolutely. The only thing is that it takes me some time in replying back. I don't check my mail through my smart phone, or anything like that, so please be patient.
C.B.: Absolutely. The only thing is that it takes me some time in replying back. I don't check my mail through my smart phone, or anything like that, so please be patient.
S.E.: Have you ever seen Megadeth as an audience member, and what was the first Megadeth record you bought?
C.B.: I have seen Megadeth as an audience member a couple of times, but one time I remember most recently was at NAMM show about three years ago. It was a great show, and it was very up close and personal. My first Megadeth album was "Rust In Peace", and, to this day, it is one of my favorites. I have since then gone back though the catalog and listened to "Peace Sells...but Who's Buying?". That has so many good lyrical and vocal hooks on it, in addition to Chris Poland soloing.
S.E.: I would like to see Megadeth throw "My Last Words" into the setlist one of these times.
C.B.: That is one of the songs we have talked about playing on the tour, so it might happen.
S.E.: Speaking of last words, do you have any?
C.B.: First and foremost, I want to say hey to everyone in Colorado. I miss you guys and I haven't been able to make it back in a while, but I will be back soon enough. And, to all of our fans, thank you for all of the support, and I will see you guys on the road.
Photos Courtesy of Megadeth.com
Interview by: Brandon Marshall