Music As A Weapon Tour IV
| | | |
| --- | --- | --- |
| The Fillmore | Denver, CO | 03.25.09 |
On March 25th, the 4th installment of the "Music As A Weapon" tour came to the Fillmore in Denver, CO, featuring festival founders and headliners "Disturbed", with co-headlines by "Killswitch Engage", "Chimaira" and "Lacuna Coil". Unfortunately, the mini-festival came to a venue that was half (4,000 seat capacity) the size that is normally booked for the tour, so Denver missed out on a lot of the festivities. But, it was good to have a bare-bones show with few frills.
We arrived at the venue at 2:30, and people where already lined-up for the show. One person I spoke with told me that concert go-er's had arrived as early as 7:00 A.M. When the doors opened at 6:00 P.M., after we got everything else out of the way, we were ready for a rock show!
First up on the bill was "Lacuna Coil". Hailing from Italy, "Lacuna" took to the stage for a 30 minute set; playing such song as "Fragile", "No Regret", "Our Truth", and "Spellbound" (a new song from their up-coming album). "Lacuna" sounded great with duel vocalists Cristina Scabbia and Andrea Ferro pumping up the crowd.
After a short set change, thrash-core veterans "Chimaira" ran out and rocked the place like it was 1988, with a high energy show as always. We have seen "Chimaira" around eleven times, and they consistently deliver! If you like listening to a band that actually sound like their albums, then "Chimaira" is THE live band for you. "Chimaira" debuted a new song from their up-coming album "The Infection", available April 21st, aptly named "Destroy and Dominate". The song title definitely summed up "Chimaira's" performance.
"Killswitch Engage" is a serious band, but also likes having a lot of fun on stage. This band was one of the highlights for us. "Killswitch" busts their ass playing and getting the crowd pumped up. Howard Jones is not only an amazing vocalist, but also an amazing front-man as well.
With his comedic stylings and great audience participation, Howard and the rest of "Killswitch" wants the crowd to have as much fun as they're having. They have amazing chemistry, something that is not forced just for show time. Guitarist Adam Dutkiewicz has a charisma and personality that is a cross between Angus Young of "AC/DC" and Rick Nelson of "Cheap Trick". His non-stop running around on stage and ultra-hyper energy, combined with his excellent taste in wardrobe (short shorts and caution tape wrapped around his arm), definitely caught the crowd's attention. "Killswitch Engage" was feeding off the crowds energy and throwing it right back. Performing for over an hour, "Killswitch Engage" played such crowd pleasers as "My Curse", "A Rose for Sharyn", "The Arms of Sorrow","My Last Serenade","The End of Heartache", and closing out their set with a cover of "Dio's" "Holy Diver", that the audience went nuts for.
"My brothers and sisters, my blood..speak to me!!!" And we did, every one of us, never stopping in 90 plus minutes of pure adrenaline pumping, body pounding metal that was "Disturbed". In front of a sold-out, packed tight and drenched, screaming crowd, the anticipation was palpable as one by one Dan Donegan (Guitar), John Moyer (Bass), and Mike Wengren (Drums) slowly made their way onto a darkened, eerily lit stage. The energy levels suddenly exploded into nothing less than fevered madness when the intro to "Voices" began, and, at last, David Draiman (Lead singer) hit the stage in theatrical Alice Cooper-esque fashion; strapped-down, masked, and escorted onto the stage Hannibal Lector style. Once released from his straps, Draiman ferociously ripped-off his straitjacket, laughing menacingly, and began grinding out his intense vocals. The perfect set-up and the perfect lyrics to launch what would become one hell of an amazing night with "Disturbed".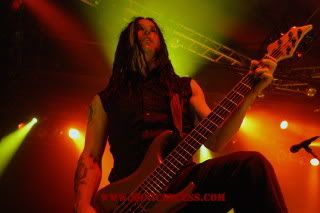 "Disturbed" followed-up the opener with fan faves such as an amazingly forceful and power-driven version of "Liberate", as well as "Just Stop" and "Prayer", slamming the audience with a non-stop taste of what to expect as the night progressed. Moments later, Draiman exercised some poetic license and spewed forth lyric changes on "Land of Confusion" that would have made the dead rise up and ask, "What did he just say? Hell yeah!" All we can say is that the crowd, all the way up to the nosebleed rafters, back to the dark, dank, far away recesses of the venue were screaming back with unbridled exhilaration. Obviously, it was one of our favorite moments of the gig. On a purely vocal level, Draiman's highlights had to have been his haunting rendition of "Remember", that brought chills, and his equally tight intro to "Ten Thousand Fists".
Looking back on the event, we cannot think of a single moment of disappointment. The entire "Disturbed" line-up gave the audience everything they had to give. The crowd left exhausted, voices trashed, and still shaking from the reverb. My advice, if "Disturbed" hits up a city near you, go! Don't even think twice. It's a show you can't afford to miss.