PHOTOS & REVIEW BY:BIRGIT HAUGEN
hose Whom The Gods Detest,
the title of NILE's latest album was clearly intended for the Denver region. There is no doubt in my mind!
Yes, they came through town in January, but the only reason we got to enjoy the show was because another prominent act had to postpone on the same day. Booking agents, HELLO, can one please pay attention to shit like that?
Anyhoo, part two of the tour was announced and guess what? No Denver date! So I summoned the gods of the frequent flyer miles and headed on out to Seattle, WA to witness this awesome spectacle.
Support for the tour was from no other than Ex Deo, Psycroptic, Keep of Kalessin and San Diego shredders Pathology.
Unfortunately the latter had to drop off the tour due to an accident while driving to Seattle. Everyone in the band is fine, but their gear took a major hit. Hopefully we will be able to watch them when they hit the road with Deicide and Belphegor in March of 2011.
Leaving Denver, where it was snowing and arriving in Seattle where the sun was warm and bright (go figure) I made my way to El Corazon at the edge of downtown. Nice place, but apparently Washington State has that law which segregates us drinking folk from the impressionable youth, so in order to enjoy an adult beverage one was confined to the bar with NO view of the stage. Thankfully the club had plenty of TV's that streamed the show live in that area, so this was my place of duty for the two local openers that night.
Then it was time for the Norwegian extreme metal dudes Keep of Kalessin to hit the stage. Since they had only a limited time to play they chose to focus more on their newer stuff off their latest album Reptilian, which was released in June of this year. The crowd really got into their music which was a delight to see, since this was only the third time they toured on our shores. Songs like "Kolossus" and "The Dragontower" went down like oil for all of the NILE fans that came out that night.
Quick set change and the boys from down under made their way to their instruments. For Psycroptic, a technical death metal outfit from the Australian island of Tasmania, it also marked the third time touring over here. I got hooked when they opened at Summer Slaughter a couple years back and haven't missed them ever since. They played such an energetic set like " Ob(servant)" and "Horde in Devolution" but unfortunately the audience did not pay them the respect they deserve. Maybe they are a bit too technical for the average NILE crowd but I enjoyed every minute of it.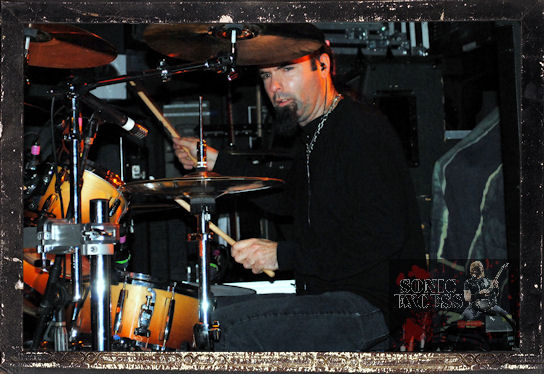 Next up was the band that made me travel in the first place. Rome will rise again and to make sure of that Maurizio Iacono formed a side project in 2008 with the name of Ex Deo. To taunt the gods I mischievously call them Kataklysm plus one; but make no mistake this Canadian death metal unit is sure to unleash the fury of Rome onto the world. The crowd went absolutely nuts; which was a bit surprising and on the other hand really fucking cool, because Ex Deo only had released one album. Most of the audience knew the songs and were singing and chanting along, which gave the band an even greater adrenaline boost. Songs like "Legio XIII" and the closer "Romulus" almost brought down the house. Karl Sanders ( Nile) and Obsidian C. (Keep Of Kalessin) did guest guitars on the album so it was rather fitting that those bands all toured together. And no, they did not join them on stage, but Maurizio did a shout out to another album guest vocalist Nergal (Behemoth) who is undergoing treatment for Leukemia.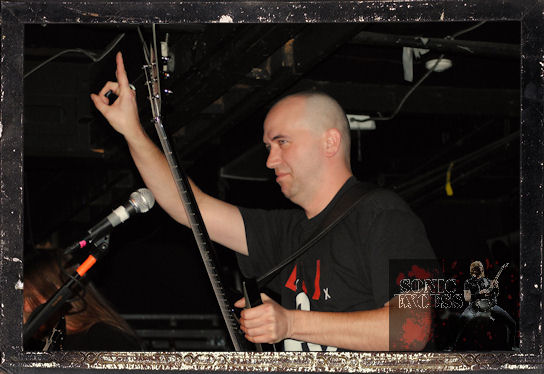 I thought it couldn't get any better than that, but the headliner NILE had yet to take the stage. As mentioned before, I did have the pleasure of watching them earlier this year so I knew what to expect. But to my delight I got surprised by the Egyptian themed death metal titans from South Carolina.
As the intro music was playing the guys in front of drummer George Kollias took the stage, and immediately I was like "hold it, why is Chris Lollis (bass) taking center spot?" Well, apparently I am bad at keeping up on things, but after years of being a session member, Chris is now a permanent fixture within the Nile catacombs. He also took over a big part of the vocal duties from Dallas Toler-Wade (guitar) and let me tell you, he rocks in the center of the stage; I was a bit awestruck to say the least. Don't get me wrong, Dallas still has the meanest growl of all and is a shear pleasure to watch. But this position move looks very pleasing to the eye (duh, I'm female) and it enables the shredding duo of Dallas and Karl Sanders (guitar) to anchor the attack force called NILE.
With the three front men delighting the gone apeshit crowd with their various shades of brutal growls the mosh pit was insane the entire set, starting with "Kafir" and ending with "Black Seeds of Vengeance". Well, except for maybe "Those Whom The Gods Detest" and "4th Arra of Dagon", but those catchy sing along parts gave everybody a minute to catch their breath before the madness started up again.
Karl is the man behind his guitars. Always very precise in every riff he is putting out and he was all smiles during the entire set and seemed to enjoy himself immensely. Bringing out his double neck guitar almost brought the whole room into frenzy.
It was definitely a memorable Friday night for all the metal heads in attendance including yours truly who enjoyed every second of this international touring roster.