In December, when it was rumored that "Lamb Of God" was headlining the "No Fear Energy Music Tour", rumors begain to fly rampantly. It was easy to see this was going to be one of the biggest and best tours of the spring, with some amazing supporting acts that would bury last year's roster.
Attending the "No Fear Energy Tour" with "Lamb Of God" were: "As I Lay Dying", "Children Of Bodom", "God Forbid" and "Municipal Waste". I was a bit skeptical walking into the venue. With corporate sponsorship getting out of control, we expected to see the corridors littered with vendors and company banners, but they were almost nowhere to be found.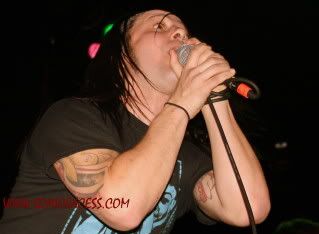 The venue opened up about 5:30. As the doors opened, the first band on the bill, "Municipal Waste", was just getting to the venue after having motor vehicle problems. Good thing they pulled in when they did because "Municipal Waste" was one of the highlights of the night. Hailing from Richmond, VA, "Municipal Waste" has seen growing support since their formation in 2001. Known for their cross-over punk/thrash style, "Municipal Waste" is a band that had seemingly been locked in a 1986 time capsule, only to be unleashed 15 years later, re-inventing a genre that has been missed for far too long. The band took to the stage, and immediately, singer Tony Foresta commanded the audience to get off their asses, get in the pit, and start some vocal participation. "Municipal Waste" quickly gained the attention of concert goers shuffling in who were not familiar with them. "Municipal Waste" was the most diverse, energetic and crowd interactive by far on the tour. This is an amazing live band. An almost a guaranteed fun show. They are serious musicians, who don't take themselves too seriously. They want the crowd to have as much fun as they do. "Municipal Waste" closed out the set with "Born To Party", breaking down the song and getting the crowd to sing the chorus "Municipal Waste is gonna fuck you up!" Sonicly, they did just that.
Unfortunately, we were unable to catch the 25 minute set from "God Forbid" who came on just before "Children Of Bodom".
With "Bodom's" extensive catalog to choose from, it was a refreshing change to catch them opening with "Silent Night, Bodom Night". Janne Wirman's keyboard work is always amazing and tonight was definitely no exception. Alexi Laiho, battling a shoulder-injury from over a week ago, later announced to the crowd that he had finally gotten it x-rayed and found out it had been broken from his bus fall at the Worchester, Massachusetts show. "Bodom" is known for not having much filler in their shows, so Alexi explaining his random stage disappearances, apparently to have his shoulder iced-down, was a notable exception. Nevertheless, his vocals were dead-on and energetic. Their setlist included other crowd fav's such as "Angels Don't Kill", "Downfall", and "In Your Face", but Bodom's live version of "Blooddrunk" was the absolute highlight of the night; driving the already fanatical crowd wild and making security actually do REAL work....carting off a constant flow of collapsed, over-heated, drunken pit dwellers to higher ground.
Up next on the bill was metal-core warriors "As I Lay Dying", who are touring in support of their recent release DVD release "This Is Who We Are". The DVD compilation spans 300 minutes in a 3 disc set. Opening with a track off their 2007 album "An Ocean Between Us", "As I Lay Dying" mesmorized their throng of devoted fans. We thought they where a bit too rehearsed and choreographed, primarily in their staging; which included two foot tall ramp platforms in front of each microphone. It just looked cheesy, but in their defense, the band sounded tight, and they got a great reception from the crowd who gave "As I Lay Dying's" high energy right back. People generally either love or hate "As I Lay Dying"...with a passion. We stand in the middle lukewarm zone, but this was a great performance. With only a 45 minute set, they played a heavily off "An Ocean Between Us", with a few oldies too. Namely, "Separation", "Through Struggle", "Forever", "An Ocean Between Us", "94 Hours", and closed out their strong set with "Confined".
It was almost time for "Lamb Of God" to take to the stage. By this point, the long drunken crowd had begun to get beyond biligerent and very rowdy. During the tense moments in-between set changes, chants started flowing, from what sounded like every person in the venue, loudly screaming "Lamb Of God" non-stop. As the lights went down, along with the back curtain revealing the drum riser, "Lamb Of God" walked out on-stage. The venue just went crazy! We have seen "Lamb Of God" many times, from 100 seat clubs to playing arenas and stadiums, but we had never seen a crowd reaction like we did in Denver. It was tough to tell who was enjoying it more, the fans or the band.
Since debuting their # 2 billboard chart release entitled "Wrath", this was the first time "Lamb Of God" came to the area in support of it. "Lamb Of God" had a chance to try some new material out in Denver as well, but "Lamb Of God" also played big, heaping chunks from their back catalog. While watching this band, we couldn't help but think how they reminded us of live "Pantera", having a similar stage presence and sound. Vocalist Randy Blythe is indeed one of the top front-men in metal right now, with his raspy vocals and spoken words accompanied by his domininating stage presence. The Adler brothers play exactly how brothers do, always off one another. "Lamb Of God" tore the roof off when they played "Walk With Me In Hell", "Something to Die For", "Laid to Rest", and "Redneck", closing out the set with "Black Label". After an 80 minute set from "Lamb Of God", the crowd was drained.
The "No Fear Energy Music Tour" has been one of the highlights of the 2009 concert series, that is only now just beginning. While every band brought something different, for us the highlight of the night was watching "Municipal Waste". This is a tour that is well worth the price of admission for six hours of metal.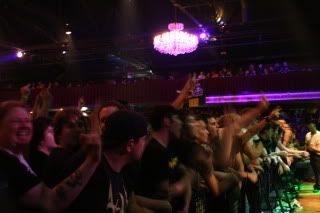 Photos and Review by: Suzanne Drager & Brandon Marshall