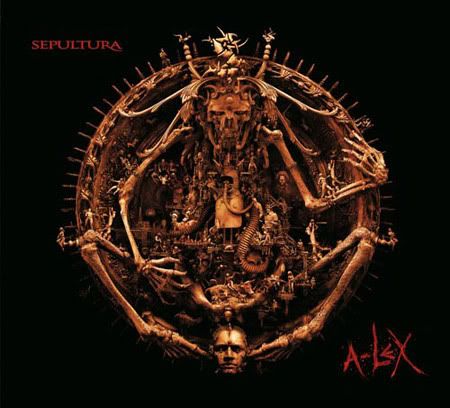 Releasedates for: A-Lex
January 23rd: Germany, Austria, Switzerland and Brasil:

January 26th: UK, Scandinavia and the rest of Europe

January 27th: USA and Canada


PREORDER "A-Lex"
| | |
| --- | --- |
| List Price: | $19.98 |
| Price: | $14.99 |
| You Save: | $4.99 (25%) |
Artist info:
On January 27th, Sepultura will release their 11th studio album (U.S release date) entitled "A-Lex", a concept album based on the 1971 Stanly Kubrick film "A Clockwork Orange". This is Sepultura's second concept album, which is a follow up to the 2006 release "Dante XXI" that met with good reviews.
"A-Lex" is the first album since the departure of founding drummer Igor Cavalera, who played in Sepultura for over 22 years, and it ushered in a new member to the Sepulatribe, Jean Dolabella, who has also played drums for Paul Di'Anno (former singer of "Iron Maiden". I was very skeptical with this new addition to the fold, and replacing one of the most distinctive drummers in metal, but I will touch on that subject in just a bit.
The opening track titled "A-Lex I" Is an instrumental intro that decends into madness upon the first listen, then goes right into the full force assault of "Moloko Mesto", one of my personal favorites on the album, that is the undeniable sound of Sepultura, and takes off from there.
"A-Lex" is a very diversified album with orchestral arrangements, instrumentals, and new effects that Sepultura have never experimented with on previous releases, while going back to a sound that is familarized by their 1991 masterpice "Arise". (See track 10) Some of the more interesting tracks are "Ludwig Van", which pays tribute to his "Symphony #9" with electric and string orchestra using snipits of "#9 in D Minor Opus 125", a jump da fuck up Max style groove of "Confirm", and my personal favorite,"Forceful Behavior" which is a page out of the early catalog while remaining progressive. Andreas Kisser (guitars) laid down the blueprint with complicated and catchy riffs with his unique and always progressive leads, while Jean Dolabella (drums) does a fine job filling massive shoes with more of a hardcore and jazz style sound that still fits in great. Derrick Green (vocals) delivers aggressive vocals, coming very close to guttoral grunts a few times, and Paulo Jr. laying down the bass thats tougher to break though than a cement wall.
I was never a big fan of the cult classic film "A Clockwork Orange", but I am a fan of Sepultura's attempt to recreate it musically. Between "A-Lex" and the upcoming Kreator release, "Hoards Of Chaos", 2009 is shaping up to be a year of strong releases and metal. I think a lot of old school fans are going to be happy with "A-Lex", as I am.
Rating:
7.0 out of 10.0
Track listing:
"A-Lex I" - 1:53

"Moloko Mesto" - 2:09

"Filthy Rot" - 2:45

"We′ve Lost You" - 4:13

"What I Do!" - 2:01

"A-Lex II" - 2:18

"The Treatment" - 3:23

"Metamorphosis" - 3:01

"Sadistic Values" - 6:50

"Forceful Behavior" - 2:27

"Conform" - 1:54

"A-Lex III" - 2:03

"The Experiment" - 3:28

"Strike" - 3:40

"Enough Said" - 1:36

"Ludwig Van" - 5:29

"A-Lex IV" - 2:46

"Paradox" - 2:15
Review by: Brandon Marshall
DAll Sonic Excess images and staff authored work are copy written and are not to be used without the written permission of the Editor(s).