COMING SOON
One word that can sum up a lot, purely Slash. This top hat wearing, chain-smoking, ax-man proved to be a guitar legend by the time he was twenty-three; laying down the blueprint for Guns-N-Roses and always ranking in the top ten guitarists of all time. Slash is an original, and it's made him an icon for over twenty years.
This spring, the world will see a true Slash solo album for the first time. We all remember Slash's Snakepit, his coverband; Slash's Blues Ball; Velvet Revolver, his main focus for the past five years; and countless collorabations, but "Slash and Friends" proves to be a different release showing us a few new sides to Slash, the icon. Collaborating with all original members of Guns-N- Roses, with the exception of W. Axl Rose, "Slash and Friends" is a star-studded album of musical diversity and talent, from Ozzy Osbourne to Fergie and quite a few guests in between.
Ghost (Featuring Ian Astbury & Izzy Stradlin)
"Ghost" proves to be a great introduction, with Slash style pulls and a strong rhythm section, shaping it to be the the album anthem. It's refreshing to hear Slash and former G-n-R bandmate Izzy Stradlin play together again after such a long time. Slash and Izzy always had impressive songwriting skills while in Guns, and "Ghost" proves that they still do. One can only hope this pans out to be more then a one time collaboration.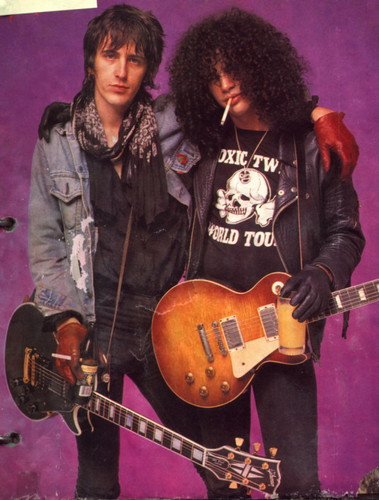 Crucify the Dead (Featuring Ozzy Osbourne)
"Crucify the Dead" has the dream team from hell, with Ozzy Osbourne on vocals. This song fits Ozzy well. The hard, distorted guitar sound, courtesy of Slash, and an organ to accompany the chorus, adds to the evil intensity of the song and is perhaps Slash's most malevolent song to date. Over the past few years, Ozzy's vocals have sounded a bit worn and over produced, but "Crucify the Dead" is a bit a reminicent of Ozzy from the "No More Tears" era. Slash and Ozzy are a force to be reckoned with.





Beautiful Dangerous (Featuring Fergie)
I had my reservations about this track when I first heard Fergie would appear on it. Fergie tried to shed her pop sound with the hard driven guitar of Slash, but it just didn't fit. The build up and chorus are simply horrendous, and the listener is left with just one question, why?





Back From Cali (Featuring Myles Kennedy)
Reminds me more of a Slash's Snakepit album; has a very bluesy feel, with some amazing Slash signature work.





Promise (Featuring Chris Cornell)
This track has a upbeat, mainstream rock sound to it. I had high expectations for Promise, but it's average at best. I've always been a fan of Cornell's vocals, but this time they sound tired.





By the Sword (Featuring Andrew Stockdale)
The first single off of Slash and Friends and one of the best composed. "By the Sword" has come great hooks and proves to be very catchy. The vocals of Andrew Stockwell give "By the Sword" a 70's rock feel. Yet another song that really fits this album.





Gotten (Featuring Levine)
I could not get through this track, and by the first minute, it proves to be the weak link. I had to look up the singer to see if the vocals where male or female. Levine fronts Maroon 5, so you be the judge.





Doctor Alibi (Featuring Lemmy)
This collaboration of two rock gods proves to be the perfect formula. "Doctor Alibi", is a balls-out, borderline metal song, one that should have been written years ago. With Lemmy having one of the most distinctive vocals in music and Slash having one of the most notable styles and tones, the listener will know who this is when it comes on the radio. One might wonder what would have happened if this collaboration had occurred in the late 80's...Slash with the hard partying Motorhead?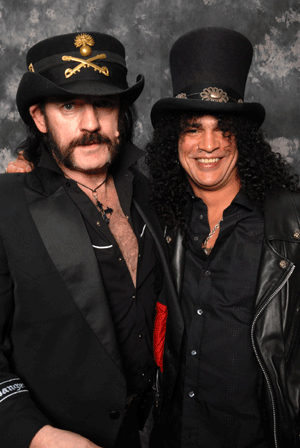 Watch This (Featuring David Grohl & Duff McKagan)
Yet another song Slash downtuned his guitar for, with an opening lead that just sings. Slash really got creative on this track, with his former bandmate Duff McKagan and David Grohl back on drums mixing and matching his style. This instrumental showcases top-notch musicianship and Slash at his best. Clocking in at 3:47, 'Watch This" is some of Slash's most impressive work to date, and a track that is destined to be played over and over again.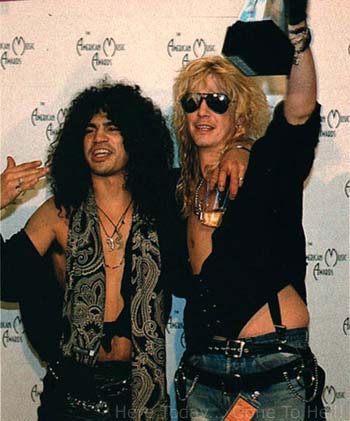 Hold On (Featuring Kid Rock)
A sub-par track that leaves little for the ears, and even less for this uninspiring, gospel-rock offering.






Nothing to Say (Featuring M. Shadows)
The fastest, most aggressive track on Slash and Friends, and perhaps the fastest he has written. Slash ventures into new territory with guitar chugging and double picking. "Nothing to Say" proves to be gold. This is the song on the album that will get you speeding tickets if you happen to be driving. One can only hope M. Shadows will become Velvet Revolver's new frontman.






Starlight (Featuring Myles Kennedy)
The second collaboration with Myles Kennedy is perhaps the best ballad track on Slash and Friends.







Saint is a Sinner Too (Featuring Rocca De Luca)
An all acoustic track that would have been better left as a straight intrumental.






We're All Gonna Die (Featuring Iggy Pop)
Another catchy anthem, but with punk lyrics. "We're all Gonna Die" doesn't rank with this editors top pics, but it is above some of the more mediocre tracks.







Slash and Friends is a diverse album that has something for everyone, it really shows off Slash's style. Some of the Slash's hand-picked collaborations coult not be a better fit, while others leave a lot to be desired. This is not an album I could listen to the whole way through, but half of the album is stellar. When matching up Slash and Friends against Chinese Democracy, Slash and Friends buries it.
By: Brandon Marshall