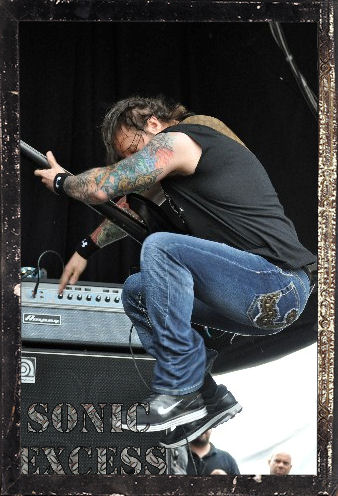 Metal radio host Andrew Haug was facing the toughest gig of his life: telling several thousand Slayer fans that Tom Araya had fallen ill and their appearance at the Sydney Soundwave Festival had to be cancelled. The audience had been gathering before Stage 4 for most of the previous hour, giving Ill Nino a crowd they ordinarily would not have had. But when the thrash legends failed to front for their slot after almost 10 minutes, and the police moved into the crowd instead of standing well back as they had for the rest of the day, most of us knew something was up. And before Haug had even finished speaking – he got as far as apologising for being the bearer of bad news – bottles rained onto the stage. Disgusted and disappointed fans tore their Slayer shirts off and set them alight. A full garbage bin ended up on stage, and the hail of bottles continued for at least 15 minutes. Then that was it. Their frustration vented, some of them went home. Others just went to the bar to wait for Rob Zombie or Iron Maiden to come on. Around them, the Soundwave Festival continued to swirl. Kylesa came on as if nothing had happened and rocked out hard with their booming pair of drummers and groovy sludge arsenal, Laura Pleasants one of only three females to strut the stages across the whole event.

Everything had started out pretty well perfectly. Florida's Nonpoint opened proceedings, their groove-infested modern heavy rock getting a small circle pit happening nice and early. I had only heard this band for the first time a week ago but came away as quite a fan. Taking Dawn took flight like Nevada's version of Airbourne, full of youthful energy and hook-ridden old school hard rock. They used every available space including the photo pit and part of the other stage to work the early-comers with their upbeat party tunes and good-time rocking out, even if few people seemed to actually know who they were (Band: "Do you know who we are?" Crowd: "No!" Band: "We're Taking fucking Dawn!"). The Sword were somewhat less energetic but kept the crowd pumping with their bottom-heavy guitars and catchy grooves. Unlike the last band, these guys had a following that swelled the Stage 4 basin and roared with approval at every turn. The Texans pulled out nothing fancy, just commanding their devoted with the power of the riff alone and hopefully it won't be too long before they can come back and do a full set of shows of their own.

Sevendust

came on about twenty minutes late, which is poor form when all the other bands had been punctual, especially at a festival like this. Also, they sounded terrible, as if Lajon Witherspoon was being backed by a massive washing machine powered by a jet engine. Awful. I bailed and went to see Monster Magnet instead, which wasn't a hard decision to make even if Sevendust had been good. Inside the vast Showground arena, the laconic Dave Wyndorf led his crew through a tight, loud set of muscular rock that was proof if any were still necessary that sometimes all it takes to be cool is a bunch of great tunes and a fat guitar sound.

Following that, I headed back to watch the Soundwave metal stage get its first real mosh action as DevilDriver took control. With new album 'Beast' debutting in the Top 10 this week, the band was in top form and the crowd responded with a gigantic circle pit that took up almost the entire space between the mixing tent and the barriers. Crushing grooves and thunderous drums incited the pit under the direction of Dez Fafara's barks and growls as DevilDriver delivered a brutally intense performance.

In front of a smaller crowd in a stadium usually set aside for wood-chopping contests, it's possible that Terror was even more insane with their savage assault of relentless and furious hardcore. Scott Vogel spent as much time off the stage as he did on it, working the crowd into a frenzy, throwing the mike into the pit and delivering a show every bit as intense as I had been promised.

Back at the metal stage, Murderdolls had just opened their account, their set-time a somewhat ironic clash with that of Stone Sour in the main arena. It was amusing to hear Wednesday 13 call the crowd at the back pussies when he looked like a zombie hooker and Joey Jordison was painted up like a kabuki doll, but the dark Alice Cooper-style ironic humour is part of their schtick and the band delivered a fierce, stomping set. Wednesday's exhortations to "even people who don't like us" to raise their fists and yell was hard to refuse and their catchy, shlocky rock got heads banging.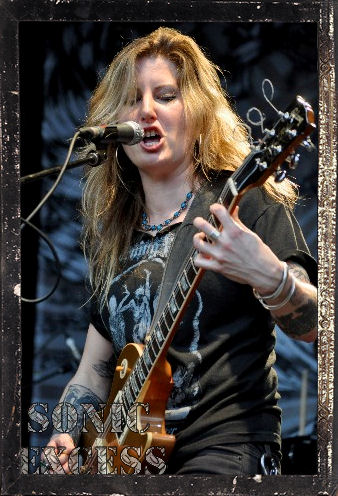 High on Fire rolled out of the smaller Stage 4 annex like a cement truck with no brakes. Sure some of the other bands had been heavy, but no one else sounded this dirty, so gloriously steeped in bottom-end it was filthy. These guys were so heavy the PA gave out after only two songs… twice. When it finally got rectified, Matt Pike set to with a murderous rage that built up to what should have been a perfect segue into the next act, had they started on time.

As it turned out, Dimmu Borgir were tardy. To the metalheads making up easily half the crowd at this festival, this was one of the most anticipated acts, having blown out two previous tours, so when they finally appeared it was to a rapturous reception. It did seem strange to see them in the middle of the afternoon but from where I was standing the band sounded great, not to mention h-e-a-v-y. Galder pulled faces as he drew forth razor-like melodies and Shagrath conducted the symphony from centrestage. As impressive as they were, it did all seem a little bit too stage-managed and one couldn't help but feel it would have worked better inside, at night.

Across the other side of the venue, Gang of Four was absolutely ripping it up. Jon King was bouncing around with more energy than a man half his age and Andy Gill's guitar was at ear-splitting volume but the tone was glass: clear and cutting. As King ranted and raved,

gushed

litres

of sweat and turned microphone stands into steel origami, the water-tight rhythm section pumped out infectious funky beats that got people actually dancing, the only time I was to see this all day. The old

blokes more than still have it: they owned.

I had just enough time left to catch the very end of Slash's set in the main arena. From a couple of football fields away, I didn't see much but the sound was remarkably solid. " Paradise City" was the only song I heard, but with Slash working through his entire oeurve of stage moves in that six-minute period there probably wasn't a need to see anything else. It would have been nice to hear Myles Kennedy sing some more though.

Now it was time for Slayer, and while I'm not the band's greatest fan there's no doubt they have ome fantastic thrash metal songs and I like to see them whenever I can, even though I know there's at least a 50% chance these days that they'll suck. And besides, today we were going to see the deliciously rare sight of Slayer with Gary Holt from Exodus on guitar.

Except that they cancelled, causing the place to go nuts, as I mentioned earlier.

The hole left in the schedule by Slayer pulling out gave me time to take a break, but I realised later that I could – and should – have gone to see Social Distortion. As noted however, the wonderful Kylesa got many back into the groove and fired up again for Rob Zombie.

My original plan had been to watch a bit of both Zombie and

Coheed

and Cambria, but Zombie came on about ten minutes late and almost scotched the idea. I was so far away, all I could see was a John 5-shaped dot jumping up and down amid a haze of green smoke, which wasn't very entertaining. So I headed over to catch

Coheed

but they still hadn't appeared when I got to their stage, thanks to what seemed like some technical issues. That was rather disappointing, and while on any other occasion I would have waited around for them, now it was time to go see Iron Maiden.

As a rather short guy, I spent the first few songs feeling the frustration of the height-challenged at a rock show as 6-foot-plus dudes constantly moved in front of me and then stood there like oak trees, moving only when I tried to move myself to see past them. At one stage I shifted 12 feet to my left to get away from some dude with hair like Slash, only to have him move directly in front of me again two minutes later. If one guy wasn't taking up enough space, he kept turning fully sideways to talk to his mate… while standing in the pit at an Iron Maiden concert. One dude kept waving a huge lighter every time the pace dropped and steadfastly refused to move, despite clearing not knowing any of the songs (or, if he did, he didn't seem to like them much).

But this review isn't about me, it's about

Soundwave

, and this part is about Iron Maiden, one of the live music spectacles of the world. Three days ago at the Entertainment Centre they had been on fire, and if the superlative to being on fire is blazingly incinerating, then that's what Maiden was tonight. Apart from Dave Murray's guitar being

noticably

out of tune as he chimed into a shared solo with Adrian Smith there was nothing to fault them on, unless it was the very, very long video intro. The arena was packed, providing the band with one of the biggest crowds they've ever faced in this country, the band was obviously feeding off the massive vibe and the indefatigable Bruce Dickinson truly brought his

A

game. You can tell "The Talisman" is hard for him to sing but he doesn't falter and you can forgive his long monologue afterwards – longer than most other bands' songs – but he's never boring or trite. "Blood Brothers" went out to the New Zealand earthquake victims again and the roar was massive, and once again "The Wicker Man" and "Hallowed be Thy Name" were the highlights of the set, if any needed to be chosen. I'm sure Pennywise,

Melvins

and The Bronx had an audience too (and maybe someone remembered Third Eye Blind was even playing) and knowing those bands they'd be going off, but for a huge slice of the crowd it was Iron Maiden who capped things off, and they do so magnificently.

Special Thanks To: LOUD MAGAZINE