TESTAMENT'S Chuck Billy is ready for carnage
Interview & Live Photos by: Brandon Marshall
he American Carnage Tour featuring TESTAMENT, SLAYER, and MEGADETH is just one month away from hitting the road and making its way across the US for what is one of the most anticipated US tours in the past 20 years. The last time this unholy trinity of thrash shared the stage was on the Clash of the Titans Tour in 1990. That tour made its way across Europe and is still being talked about to this day. Times have changed, but one thing is for certain, TESTAMENT'S music has not. With their uncompromising sound and style, TESTAMENT was on the frontlines of the Bay Area Thrash scene in the early 1980's. TESTAMENT has gone on to write landmark thrashterpiece albums, such as The Legacy and 2008's The Formation of Damnation. While preparing for the tour, Sonic Excess caught up with vocalist Chuck Billy as he was driving to the recording studio to work on TESTAMENT'S upcoming record.
NOTE: During the course of the interview, cell phone reception cut in and out. So, interview is not in full.
SONIC EXCESS: The American Carnage Tour is just one month away. How have you been preparing for the tour, and will TESTAMENT be playing the Legacy in it's entirety as you did earlier this year?
CHUCK BILLY: No, we are not going to be playing The Legacy, because we did that with MEGADETH early in the year. It's with SLAYER and MEGADETH , so we're pulling out some of our harder songs on like The Gathering and The Formation of Damnation record.
SE: What about Demonic?
BILLY: Ya, also that one. It's going to be a harder set then what we did for the MEGADETH and JUDAS PRIEST tour. We have covered a lot of ground over the last couple of years, and we choose our sets depending on who we're playing with and what audience we are playing to. This time around, it's gonna be a harder set for sure!
SE: What's the set time going to be? How long will you be performing?
BILLY: About 45 minutes, so maybe about 9 or 10 songs.
SE: You can always play faster and slip 1 or 2 more in.
BILLY: (LAUGHS) I just won't have to talk and just keep playing.
SE: Will Glen Drover (former Megadeth guitarist) be filling in for Alex Skolnick (current Testament guitarist) as he did earlier this year?
BILLY: No, Alex will be on this tour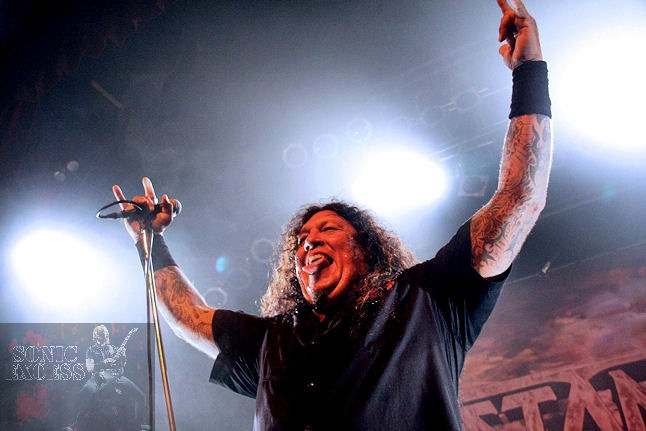 SE: Will any of the shows be recorded for a live album or DVD?

BILLY: We haven't talked about it, but it would be nice to do. The down part about that is we only get a 45 minute set, so to release a DVD of only a 45 minute show is not giving the fans their money's worth, as far as buying a live concert.

SE: What about a compilation with all of the bands?

BILLY: That would be nice too, but I can't see it happening SE: Tweny years ago, TESTAMENT played with SLAYER and MEGADETH on the Clash of the Titans Tour. How do you think the American Carnage Tour will be different, and why not call it Clash of the Titans II?

BILLY: I don't know why they didn't call it that, but I think this time around… shit, that was 20 years ago, that (the Clash of the Titans Tour) was a big party with all the bands and crew. There was a lot of Jagermeister going around. Of course back then, the partying was more intense. We thought we would perform better being drunk, but that's what we thought (LAUGHS). As for today, I can't speak for SLAYER and MEGADETH, but for TESTAMENT, it's more about the performance, and the show for the fans that are paying money. Before, it wasn't. It was more about ourselves and how much fun we're having and how much we can get fucked up; never thought about the people who are paying money to see us. Now, in our life and in our career, our number one priority is performing good and sounding good and giving our fans their money's worth, especially in today's economy. We want to give them as much as we can for their buck, and that's why we offer the V.I.P. passes. We have never done that before, and when we did, we just started seeing so much fan appreciation. So, we kept doing it. It really is a chance for fans to speak their minds to us in person or just hang for an hour. This time in our career, it's all about the fans and the performance. SE: TESTAMENT is known for being a strong live band, and lately, a lot of buzz has been generating around your live shows.

BILLY: A lot of bands that do albums don't cut the mustard when it's time to play live. Some bands use samples or just put so much on their records that it doesn't come across the same way live. I think TESTAMENT plays our songs better live then we do on the record, because we always have had more energy, and it's always more powerful. SE: Any chance of an all-star jam with the members of SLAYER, TESTAMENT and MEGADETH?

BILLY: Always a chance, but nothing planned. It's always a possibility. Ya never know what will happen.

SE: Has there been any discussion about having Dave Lombardo (current Slayer drummer & former Testament drummer) play a few songs off The Gathering with TESTAMENT, and having Paul Bostoph (current Testament drummer & former Slayer drummer) play with SLAYER during his period with the band?

BILLY: I thought about that, and it would be cool. Until we get out there and hang out, we don't know until we can talk about it. You know how it is, out partying and kicking back, next thing you know someone says "lets get together and jam". That's how it started with (Dave) Lombardo playing on The Gathering. We were on tour together, and he was "like look me up, we should jam". Me and Erick Peterson (guitar) were like, OK. When it was time to write a record, we called Lombardo, and he came in and did the record. That's how it happened.

SE: TESTAMENT will be playing in India this summer. Is this TESTAMENT'S first gig there, and when playing a new country or new city, do you see the sights and enjoy the culture?

BILLY: We will try to, especially with this being our first time in India. It will be a new experience to talk to people, and see what it's all about over there.

SE: TESTAMENT toured with HEAVEN AND HELL on the Metal Masters Tour in 08. What will you remember most about that tour and about Ronnie James Dio?

BILLY: We toured with BLACK SABATH back in 92 or 93. It was the last tour he (Ronnie James Dio) did with them before leaving the band. To do a tour like that again, and see everyone, was like old times. It was always special with Ronnie. He was a guy that cared about how things were going. To me, he was a guy with a remarkable memory. He remembered people's names that he met years prior. He was just a down to earth guy. We toured with him in Europe, in the winter, and we would always be in the dressing room and just hang out. It was pretty cool. It was special doing it out here too, with JUDAS PRIEST, another hero of ours.

SE: TESTAMENT held off on touring Europe to work on the new album. What can you tell us about it?

BILLY: Progress is slow. We are still working on writing the record. There's all kinds of things happening. We decided we weren't going to tour, then the American Carnage Tour came up in February, and, of course, that was postponed. After that, we had planned not to tour and just work on the record. But that tour got postponed, and we went out with MEGADETH and did a few shows here and there. So it's been slow, with progress of the record, but it's coming along. We are leaving for two shows in Europe, then we gear up for the Carnage tour. So, we will see if we can write on the road. We may have some inspiration from the tour, so we'll see. SE: Do you have a projected release date?

BILLY: Definitely early next year; first quarter next year.

SE: How many songs do you have written?

BILLY: We don't have any completed. It's just a lot of riffs.

SE: Would you say it's a continuation of The Formation of Damnation?

BILLY: No, I would say it has elements of it. I think where we're at is finding that ground. I like the elements in The Gathering. I enjoyed the straight forward power of The Formation of Damnation. So, somewhere in there, there's got to be a combination of them both. We know what we are looking for and what we are trying to write, but until you write the lyrics and the melody, with the grove that makes you feel good, that's when it will happen.

SE: Earlier you mention that you have quite a few riffs. Do you have one song structured enough to maybe play it on the American Carnage Tour?

BILLY: Possibly, but I'm not sure if we will, because Alex isn't here with us writing and rehearsing. So we would want to be prepared. With the rest of the band, we write. Alex does his thing and goes on tour with different bands, and he meets us prepared and does his thing. The new stuff could be ready, but I think we are going to keep it under wraps for that tour as well.

SE: What is the lyrical content looking like?

BILLY: I haven't really written about my cancer experience and the whole spiritual experience I went though. So I might tap into a little of that. Just things that we go though, and what people go though on a daily basis. I like to write about the planet, so there is plenty of shit to write about.

SE: Speaking of the planet, the first time I heard about the 2012 prophecies was when I bought The Gathering and listened to "Three Days of Darknes". What is your prediction for 2012, if one?

BILLY: (LAUGHS) Well, hopefully it's just a prediction and all we'll talk about is the prediction. The date is like December 21st 2012, and I hope that's all it is, a prediction. But when you really think about it, with the whole picture and looking to that date, the world has not gotten any better. With oil spills, the ice melting, and global warming, we keep hearing more and more about that in our society than we did 10, 15, or 20 years ago. It was something you would never hear about unless you had an interest in it. Now, with oil spills, you have people around the world thinking about the planet; like wow, what's that doing? It's a sad way to open someone's eyes.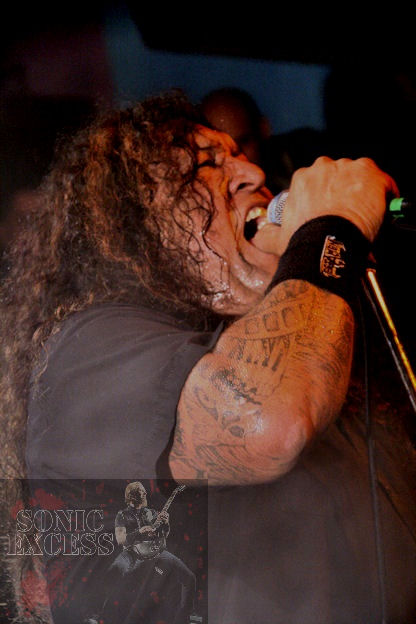 SE: With a 9 year gap between The Gathering and The Formation of Damnation, were you surprised with its success, and do you have any added pressure with the new album?

BILLY: With The Formation album, we were very excited. Well, honestly, not when we wrote it. I knew we had some good stuff. I was happy with the melodies right out of the gate. With a couple of songs, and literally the first time hearing it, we knew we had a great melody and pattern. It stuck the first time around and was very natural. We wrote a lot of songs like that. Until we actually went and mixed the record, we sat down and were like goddamn, this record is pretty fucking good! We couldn't wait for everyone to hear it and have the same reaction. Our goal was to be better than on The Gathering, because there was a lot of hype on that record for us. With it being 9 years, there was a lot of pressure.

SE: I'm guessing with you guys that it's not tough to have the same passion from when you first started.

BILLY: Not at all. We are in a good spot, because we control our music and it works out nice with bands like us. We don't have pressure with people pushing us, trying to get records out of us, or writing certain type of songs, like we did when we were on Atlantic Records. We would have A&R guys telling us to write the next single. All that pressure is gone, and it'ss a good spot where we're at.

SE: TESTAMENT was one of the original Bay Area bangers. What is your opinion on the new thrash revival scene?

BILLY: It's nice to see that it's not just the Bay Area anymore. There are bands playing around the world playing that style of music. When it started, it was just a handful of thrash bands. Now it's all over the world and doing well.

SE: It's got to be cool to see teenagers playing homage to bands like TESTAMENT and DEATH ANGEL.

BILLY: Seriously! It's cool to see 3 and 4 year old kids holding a Rock Band guitar playing "Souls of Black". (LAUGHS)

SE: Speaking of Bay Area thrash, any chance we will see a Bay Area thrash festival, or show, with bands like TESTAMENT, FORBIDDON, and EXDOUS?

BILLY: Actually, we have talked about it, and it's something that we would like to plan as a tour to take across the US. You reminded me, I need to make a phone call.

SE: Call METALLICA and get them on the bill.

BILLY: Shit, that would be great.

SE: Anything going on with DUBLIN DETH PATROL (American thrash metal band formed in 2006 by Chuck Billy and former Legacy and Exodus singer Steve Souza)?

BILLY: We actually played a show on Saturday night (June 26th). We have about 8 new songs. We need to write a couple more, and record, probably, in the next month. We plan to get that out by the end of the year.

SE: Are you going to do a tour in support?

BILLY: I don't know. If somebody offers us something, we would love to. We would like to go over to Europe and play a couple of shows or festival dates. We have the record coming out with Mascot Records in Europe.

SE: What would you like TESTAMENT'S lasting legacy to be? Pun intended.

BILLY: (LAUGHS) Probably as a band that has stayed true blue to what we started, and stuck with, through our whole career.

SE: Any last words for your fans?

BILLY: Come see us on the American Carnage Tour! We still have the V.I.P. package available, so come and hang out. We actually have a raffle with Erick's custom, signature Dean guitar and TESTAMENT skateboards; T-shirts are included in the package. Come hang with us for an hour.