Never Say Die: An Interview with Bill Ward
Forward by: Derek Kerswill of Unearth
I can remember it as though it were yesterday. One of the very first Christmas' that I received a major assortment of cassette tapes as one of my best and most exciting gifts. In it was Kiss "Alive I + II", Cheap Trick "Dream Police", Blue Oyster Cult "Some Enchanted Evening" and the scariest looking one of all........a band called Black Sabbath and their album entitled "Paranoid". The cover intrigued me.....even at 7 years old. It was the very first one I opened and played immediately.
What I heard scared me a little, but I liked it a lot. One thing that stuck out more than anything was the genuine heart and thunderous pounding of drummer Bill Ward. I was an aspiring drummer myself......working a paper route already to try and buy my very first drum set. This was the first time that a drummer jumped out of a mix for me since I first saw Animal on the muppets and heard John Bonham on the ole' 33 1/3 playing "Black Dog". But this was a little different.....not as polished, but there was something special about it.
Through the 20+ years I've been playing, Bill Ward has truly inspired me as a drummer. His unique approach and raw energy was always so monumental to the Black Sabbath sound. He was scrutinized at times in his career and I have had quite a few arguments with my peers defending his brilliance, but what it always comes down to, is the fact that he had an immense amount of character behind the kit. To me, he was the ONLY true drummer of Black Sabbath.
A few years back, I read one of the greatest drum interviews ever......about Bill Ward. He was in his 40's and became frustrated with his playing and decided to take lessons for the very first time in his life. He lasted about 8 months but became discouraged and went to his instructor and told him he was done and he didn't know what to do. His instructor said to him "Hey man....you ARE Bill Ward of Black Sabbath, correct?" and he replied "Yes.....and?". His instructor simply replied "Then just be Bill Ward from Black Sabbath". And redefining that "character" and finding himself again would be his ultimate inspiration. That was single-handedly one of the most important things I've learned in the last 10 years about my own personal development.......just be yourself. Thanks Bill Ward.
Derek Kerswill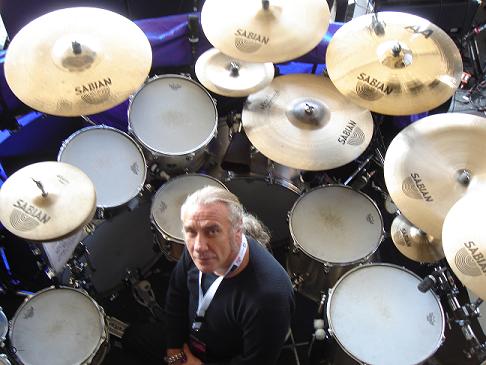 I have been very pleased by its longevity, in the way it's been received by artists as well as our fans. Other artists have really helped bring value to it. I think it is a very validated album, which to me is a gift, and I try to accept with some humility and say thanks to everybody. It is nice as a musician to receive accolades from your fellow musicians and from the fans alike...",
Explains WARD while talking about the influence and impact that Paranoid has had on fans and artists 40 years after its release. In the DVD series Classic Albums, Paranoid is celebrated and broken down by the SABB 4, along with the producers, giving the viewer a flashback to 1970 to one of the most groundbreaking and influential records ever released by a band, a band that is responsible for creating a music genre that changed the face of rock forever.
Sonic Excess was lucky enough to speak with drummer BILL WARD just before he was going into the studio to work on his upcoming solo album, entitled Accountable Beasts, due out later this year; a discussion about his and BLACK SABBATH's beginnings; Paranoid; the current state of SABBATH; BILL's "Rock 50" radio show; what he is planning for the five albums worth of material he's already written; and many other topics:
Interview by: Brandon Marshall
Photos courtesy of BillWard.com, Aston Historical Society, & Gene Krupa.com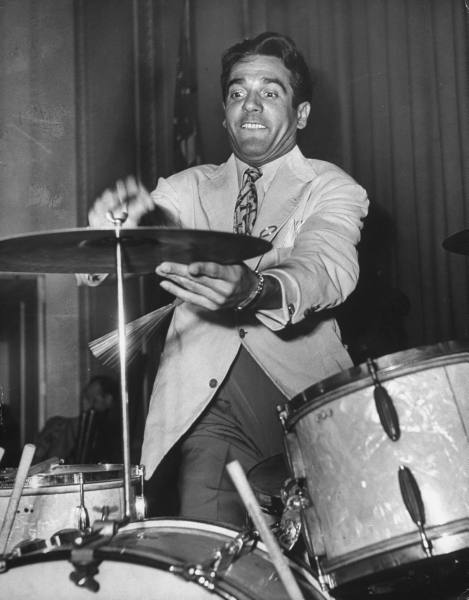 Gene Krupta
Sonic Excess: You were just a young child when rock-n-roll came to the UK. Was it a turning point in your formative years, with the music of ELVIS PRESLEY and BUDDY HOLLY, and at what point did you deicide you wanted to play drums?
Bill Ward: Actually, it was prior to ELVIS PRESLEY and BUDDY HOLLY, although, ELVIS was a huge influence on me, and BUDDY HOLLYwas as well. I was playing drums when I was very, very young. I was probably about three or four years old at the time. The music that I listened to was the Big Band music that my mother and father listened to a lot, the Big Band records that the G.I.s brought over from the states during World War II. They (BILL WARD's parents) were very influenced by the music. So, growing up as a child, I listened to a lot of Big Band and Swing. Of course, my early references to rock-n-roll would be THE PLATTERS and THE INK SPOTS, and then moving on to ELVIS PRESLY, LITTLE RICHARD, and JERRY LEE LEWIS.
SE: I'm glad that you mentioned that, because I can hear the influence on songs like "Never Say Die" for example. Was that an early template for your style?
Ward: I was very influenced it, by early rock-n-roll, and the enjoyment that I got while listening to jazz. It has always been there, and it still is to this day. I have never lost listening to some nice jazz once in a while. As a child, I would try and emulate some of the great jazz drummers. Even to this day, my mentor is GENE KRUPA (influential American jazz and Big Band drummer/composer). I tried to learn everything I could and emulate GENE KRUPA's drumming.
SE: When BLACK SABBATH formed, or EARTH I should say, was it approached in a serious manner, or was it just four guys from Birmingham that just wanted to play music and have fun?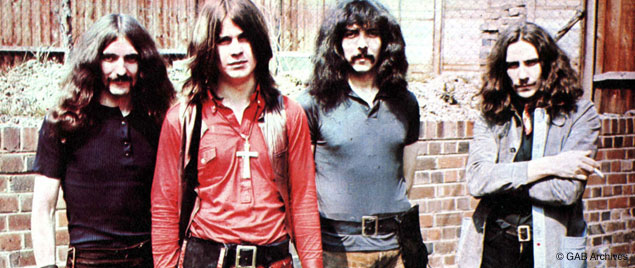 Black Sabbth in 1969. From left Butler, Osbourne, Iommi & Ward

Ward: We (BLACK SABBATH) were very serious when we were sitting down and writing something together or jamming together. Even though we were enjoying ourselves immensely, we were very serious about the music, and we would all work very hard as musicians. In that sense, there was a very adult attitude with the four of us, even though we were only 19 and 20 years old. We were never highbrow musicians, but we were very responsible and would play songs correctly, and so on and so forth, but that was our musical upbringing anyway.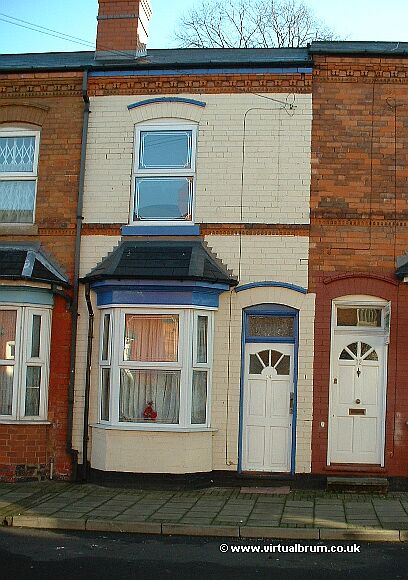 Ozzy Osbourne's childhood home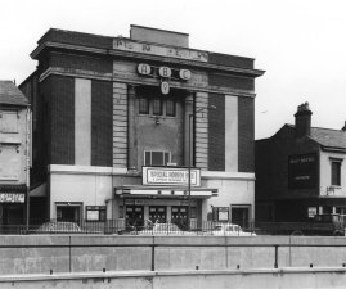 Orient Cinema in Ashton, UK

SE:Do you think that ethic has anything to do with coming from Birmingham, UK (the birthplace of Metal) and it being a working class town?

Ward: Ohh, very much so. All of the things that all of us have learned as kids growing up in Aston, which is a part of Birmingham, and being brought up in Aston, was an incredible experience. Aston is a very old city with different street values. The way that people would take care of each other was something I don't really see these days, but it's a hard place to look at during World War II. It was a place that had multiple factors. It had constant steam and smoke, so it has a very drab looking landscape. That's where we were brought in. The people were very friendly, but hard working. Very to the point, very direct, ya know? So, being brought up there, it was a great experience.


SE: Living in an area like that, it must have forged BLACK SABBATH's sound.

Ward: I'm not sure what motivated us, including me to play loud distorted music, other than the attraction. Just speaking for myself, I felt compelled to want to play harder and louder. The only link that I can give is to where I used to practice my drums. I would go past the factories and put rhythms in my head to different machine sounds. With the sound of "bommm psssss bommmm pssssss", one can't help but join in with that rhythm, but I think that's natural for a drummer.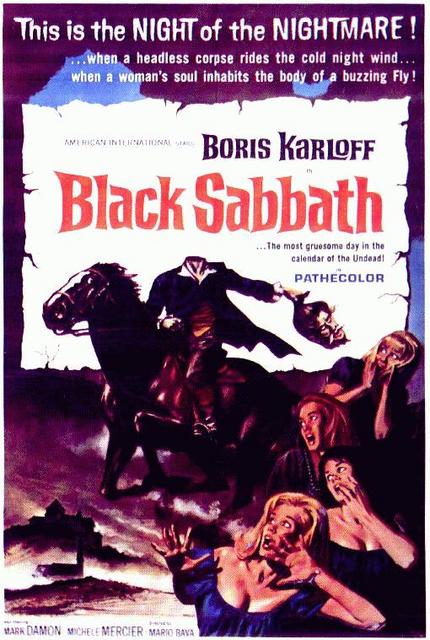 Movie poster from the 1964 film Black Sabbath
SE: Several months before BLACK SABBATH's changed its name from EARTH, BORIS KARLOFF (horror movie actor and lead role in the film BLACK SABBATH) died. Was part of the name change a tribute to him?
Ward: No. We all loved BORIS KARLOFF who doesn't? We just loved the name BLACK SABBATH. GEEZER (BUTLER-Bass) got the idea from the movie. We wrote the song "Black Sabbath" first in Aston, at the community center where we used to rehearse, but another band was called EARTH at that time and we didn't know it. That got us into hot water. People would show up expecting us to play pop songs, and we would play "Black Sabbath" (laughs). That never went down well, so we had to change our name. It worked out quite well for us; I loved the name BLACK SABBATH and thought it was a great suggestion from GEEZER.
SE: With the name change for the band and a darker sound, what were people's initial reactions when you decided to write music that was the polar opposite of what was going on at the time and playing songs that scared people?
Ward: We had a lot of fans. We had a ground base, and we were underground. So, basically, we were an underground band. Now, for whatever reason, everyone really liked this new kind of aggressive sound with a couldn't give a fuck attitude.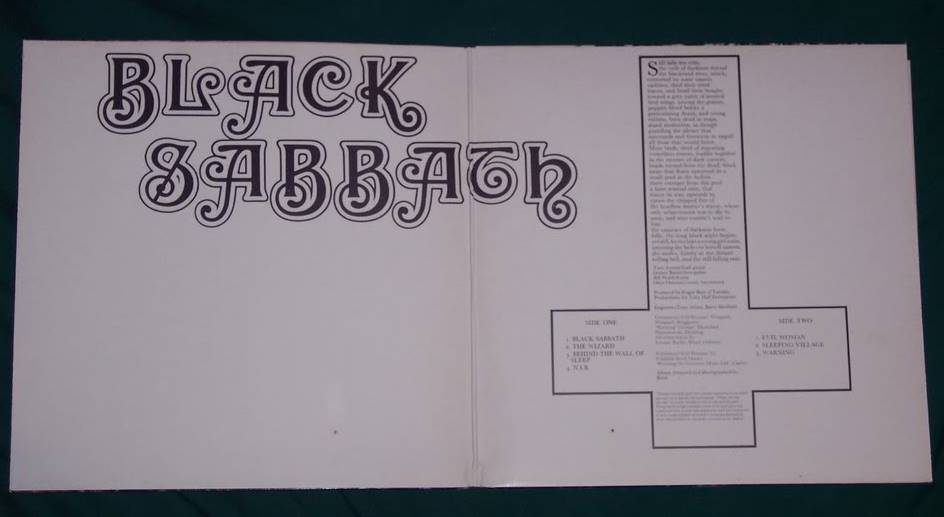 Left: Black Sabbath's self-titled debut Right: Original record sleeve
SE: Was it a coincidence that BLACK SABBATH's self-titled debut was released on Friday the 13th?
Ward: I'm not sure. I'm going to take a pot shot at this and say it was the record company trying to time that. Incidentally, we always regarded the 13th as a lucky day. Whenever it was raining, it was a good day, and whenever the 13th came around, we were all quite happy about that. "Ohh, we have a gig on the 13th? Great!" (laughs). I think all of us are superstitious as well, but the 13th was like a lucky number.
SE: BLACK SABBATH recorded collectively and many of the songs came from jam sessions. How was inspiration drawn, and how did everyone get 110% from one another?
Ward: Well, I'll just break it down to GEEZER first. When GEEZER played, I was attracted to his bass playing and wanted to really reinforce his bass playing with my drumming, and he also would want to reinforce the band. When TONY (TONY IOMMI-Guitar) would play, I would react to TONY's playing with passion and enthusiasm. I think that all those things were keys. With OZZY's (OZZY OSBOURNE-Vocals), OZZY worked so hard at trying new ideas with vocals. So again, that made me work harder so I could see what OZZY was putting into it. I think the blend with the four of us was we all had mutual respect for each other, with the combination of what I just mentioned. That brings about a tighter sounding band. Each decides to build on each other. I think the passion was what made those jam sessions very hot. We were very intuitive. We played together all the time, every single day we would play together. We made the changes all at the same time, as if we were reading from the same chart.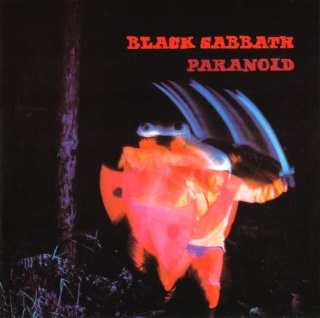 Paranoid album cover
SE: When BLACK SABBATH went into the studio to record Paranoid, did you know at the time that you where creating something revolutionary?
Ward: No, I don't think that any of us were that far up the road. We knew that we were enjoying the songs that we were writing. We had "Electric Funeral" and "Hand of Doom". We had most of "Fairies Wear Boots" written and "Iron Man", and we had been working on "War Pigs" for quite a while. We knew that we really enjoyed the music, but the big question was we didn't know if anyone was going to enjoy it. We were quite selfish. We played initially for us, and we hoped other people would like it. But no, we were never like "Ohh, this is going to be great, this is going to do that". We had no preconceived notions about any of it. We were just focused on the music.
SE: You said that you weren't too sure about what fans would think, but Paranoid peaked at #1. Can you remember everyone in the band's initial reaction?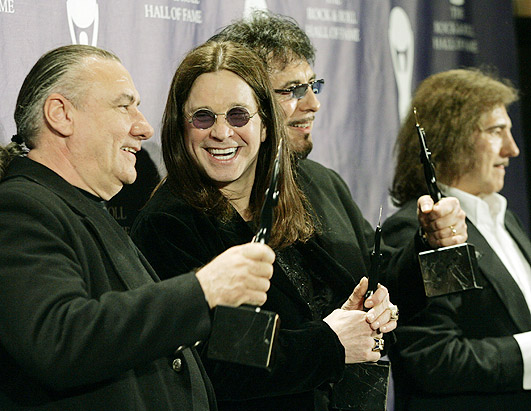 Black Sabbath being inducted into the Rock and Roll Hall of Fame in 2006

Ward: Ohh yes, that was huge. I don't think any of us were expecting that! It was difficult maneuvering through pop-dom. Not only did we have our own fan base, but we had a pop base as well. Because the band had charted, it brought in whole new people who wanted to see what this is all about. It filled up the theaters. For a while, we were in this chaotic, not a bad chaotic, but a frenzied, crazy situation. We had to learn how to maneuver though all the different scenarios throughout pop-dom.

SE: Paranoid also brought you to the U.S. for the first time. What was that experience like at 22, high on success and a few other things I'm sure (laughs)?

Ward: Well, chaotic (laughs). We hadn't a clue. With success in Europe and Great Britain, we were in a big place, or what have you. When we came to America, it was like an anti-climax, because nobody knew us in the States. Our first few gigs were absolutely awful. We had no idea about how equipment works. We had no idea about electricity voltage, and amps blowing up. We were like little babies that didn't know what they were doing at all, as far as how to get on a stage in America. So, our first few gigs were really disastrous, but we learned quickly. We got all the wiring sorted out and all the technical stuff sorted out. After a few false starts, we were up and running. I think it was maybe eight or nine gigs until we did things the right way and had the right amps, even the microphones for America. It was great. We only just started using microphones on the drums back in England, but, up until that point, nobody used microphones on drums. We entered a different form of our sound; being onstage with cabinets, being mic'd up, there were PA's. And, in America, they even had monitors, so we could actually hear ourselves play (laughs). Getting used to all these sights and sounds was quite an adventure, but, at first, we fell on our ass (laughs).

SE: That's ok, because by the time Master of Reality came out, BLACK SABBATH took over the States.

Ward: It's amazing how it did work out, Brandon. We played the East Town Theatre in New York, and it went down really well; to the point where, I think, we did seven or eight encores. It was like a brush fire going across the United States. By the time we reached LA, a lot of people have heard about us, and we were quite shocked. Everything just seemed to take off back then.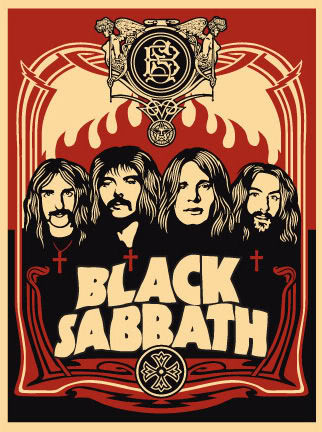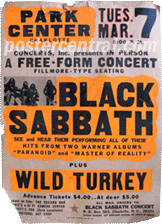 SE: When making the classic album DVD for Paranoid, did you get the same feeling when you were recording Paranoid from 40 years ago?
Ward: Yes, well it was a little bit different. I'm not quite who I was back then, but talking about Paranoid and making a movie about Paranoid was something I really enjoyed. It was fun, sitting down and practicing the songs is always fun. As I am saying this back to you Brandon, keep in mind that it was only four years ago and that it was our last reunion touring gigs. So, most of the songs we played within the DVD, we had been playing live. So it was quite easy to go back and just go though a couple of explanations, and what have you. I am just speaking for myself, but it was very enjoyable. I was doing what I love to do, which is playing in BLACK SABBATH.
SE: On the track "Rat Salad", was your drumming improvised, and what did you use for a kit?
Ward: Ohh ya, it was always improvised. That track came from a live show. Back then, I would probably play for 25 minutes. Those were the days when a bass player got a bass solo, the guitar player played for half an hour, and the drummer would play for half an hour. An entire show would be three hours long. We would go from that format, while playing a show, and it was just a segue. The music you hear on "Rat Salad" was part of a segue that we were playing live on stage at that time. But yes, it's all improvised. I never know what I am going to play, or what's going to come out of me.
SE: You played with such a small kit back then, and you got such a huge sound that filled from it.
Ward: I would play pretty hard. I learned a lot of bass drumming and snare technique through what I call my first apprenticeship (laughs), and I hung out with a lot of the drummers in Birmingham; around guys I liked how they played. So, we were all learning as teenagers. As our band would get louder, I would play harder. When we would get new amps, I would have to play louder. I think that started when we got the first Marshall amp (laughs), and that's when I had to make the change. I'm talking when I was 16-17 years old. Thank you for the compliment.
SE: I want to get back on Paranoid. This is an album that has truly stood test of time. Twelve-year-old kids playing in their basements can draw inspiration from it 40 years after its release. Did you think Paranoid was going to hold up and still be relevant 40 years later?
Ward: (Laughs) No, no.. we umm (laughs). I'm laughing because I appreciate the question. I have been very pleased by its longevity, in the way it's been received by artists as well as our fans. Other artists have really helped bring value to it. I think it is a very validated album, which to me is a gift, and I try to accept with some humility and say thanks to everybody. It is nice as a musician to receive accolades from your fellow musicians and from the fans alike.
SE: What's your proudest achievement with Paranoid, or goals that you set for yourself?
Ward: Probably not getting too angry with the drum sound (laughs).
SE: You're not happy with the drum sound, Bill?
Ward: Well, I'm such a perfectionist. I have accepted the drum sound. I've had too; it's been out for 40 years (laughs). We did the best that we could with the microphones that were available, and we did the best that we could with the equipment that we were using. I know that our producers did the very best that they could do to capture a very loud drummer. In that sense, all is good, but personally, I found myself frustrated. I wish that I could have gotten a different drum sound. On Masters of Reality, we have a different drum sound, but on Paranoid, it was a little boxy and too muffled for me. So, I was a bit disappointed. I never brought my frustrations and disappointments into the band, and I didn't get full of self-pity about it. I just carried on, and it was fine, but somewhere in the background, in the deep bowels of myself, there was a sense that I wished things would sound a little bit better. At the time, I knew that was the best we could do, drum wise I'm talking, but I'm sure all of us have critiques. I'm sure GEEZER has some things, or TONY has some things, or OZZY has some things. To me, it was being able to accept all of the album, and, by doing that, is quite an accomplishment in itself. You make do with what you have at the time, and that's the success and accepting it. I don't measure success in record sales and finances, or any of those things. I view the success as four guys being able to bring that into each song and bring what ever they had. So, that's the success. It was a damn good record, and it was of that time, and as you pointed out. A lot of those songs are still of this time. So, in that sense, it's very gratifying.
SE: I like that philosophy, measuring success as a musician and not as a pop star.
Ward: Ohh yeah, you have too. That's what's important.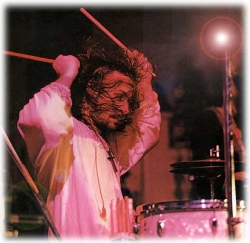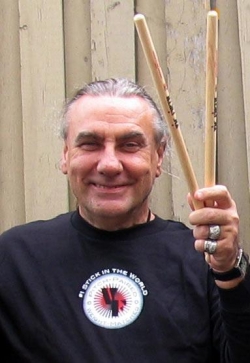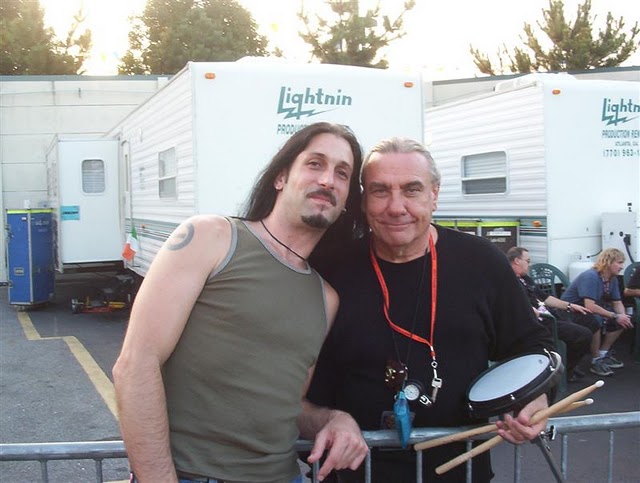 Left: Johnny Kelly & Bill Ward
Nearly every metal band, post-Black Sabbath, owes their existence to you guys. When you listen to new music, do SE: Nearly every metal band, post-BLACK SABBATH, owes their existence to you guys. When you listen to new music do you automatically hear your influence, and what is your favorite BLACK SABBATH song that has been covered by another band?
Ward: I would have to go with the song "Black Sabbath" by TYPE O NEGATIVE. When I heard that song, it led me into TYPE O. For a number of years, I have had a very good relationship with the members in TYPE O. Of course, when PETER (PETER STEELE-Vocals) died, it was a horrible moment. I saw JOHNNY (JOHNNY KELLY), who is the drummer, about two weeks ago. I love the song "Black Sabbath". There are many bands that I can credit, and I think they have all done incredible jobs. It's very honorable, and I am honored that musicians play our music. I feel so many benefits from that. Probably the best benefit is that I know most of those guys.
SE: BLACK SABBATH wrote new material, but nothing came of it. Will those recordings ever see the light of day, and, if not, can you tell us SABBATH-heads what SABBATH album it's comparable to?
Ward: Well it is true that there is a lot of material written and stored away in a very safe place. I don't know what SABBATH album it would be comparable to. We did all these jams in the spring, I think it was seven years ago. The songs have some brilliant riffs, obviously from TONY, and my drumming has changed a little bit. My approach and GEEZER's approach was a bit different in supporting TONY, I thought. OZ was cutting across with some really nice things as well. I think it was more mature, because we are more mature, even though we are kids at heart. I don't think I can compare it to any SABBATH album, but it sounded really, really, strong.
SE: Why was it never released?
Ward: Politics (laughs).
SE: Well, I don't want to pry to much then, but do you think the songs will ever see the light of day?
Ward: I think the songs that we have, and there were quite a lot of them, they ought too. They deserve to see the light of day, but whether they will or not, I don't know. It would be very sad not to let them see the light of day, because there are some really good foundations and grooves, some real nice chops. It was our band playing. To me, in my opinion, they're perfectly great enough to make another BLACK SABBATH album. The music is very current. It's us, 40 years later slamming it out, ya know?
SE: After the tragic death of RONNIE JAMES DIO, the remaining members of HEAVEN AND HELL will perform the DIO Tribute show and won't carry on after that. TONY IOMMI said, in a British newspaper, that there would be discussions between he and GEEZER BUTLER about BLACK SABBATH. Can you give us any insight?
Ward: The only thing I know, and I have talked with TONY.... well, the only person I haven't spoken with is GEEZER, but that is because he prefers e-mail to the telephone, and OZZY called me yesterday. I think the statements have been made into a little bit of a cake. I saw the statements only last night on BLABBERMOUTH.COM, when I got home from the studio. Where OZZY's at, with wanting to tour with BLACK SABBATH is that OZZY has been in his place for a long time and says, "I'm never going to say never". I have the same attitude. My quotes would be, "I never want to say never, I'm in the same place". TONY has a completely open mind to the possibility of touring with SABBATH again. I think what's happening is that some people have hooked into that and written a story out of it. I think realistically, right now, I can't see where it would be a possibility, with OZZY on tour for the next 18 months and having a new record out that's great. I've got a new record, and I know that TONY has other things he wants to do musically, and GEEZER also. We might all agree to it, but when it would happen, I just don't know. Other than those few comments, I just don't know about a SABBATH tour anywhere near in the future. TONY has already stated that he doesn't want to talk about it until he finishes that concert for RONNIE in London. It would be great, but I don't know where any of it sits right now. It's like the press has gotten it and is kindling the fire before anything has been said. I talk to OZZY all the time, and he hasn't mentioned shit to me about SABBATH.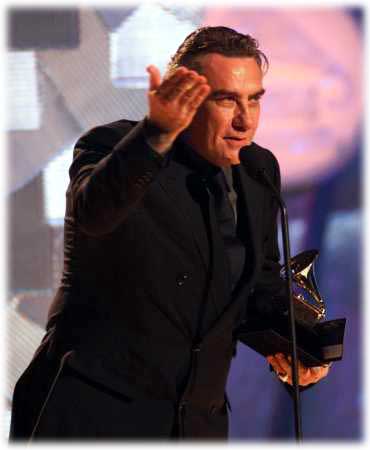 Bill Ward accepting a Grammy award
SE: After a career that has spanned over 40 years, million of albums sold, the creating of a music genre, multiple Grammys, The Rock and Roll Hall of Fame, and someone who is one of the most respected and emulated drummers in history, what is the one single moment you think back on?
Ward: Ohh man, fuckin' hell. I've been batting pretty good up until now, thanks (laughs). (Long pause) I live with the memories all the time. I try to savor my memories, and I have so many. I have met so many people that have just touched me. A lot of them are gone now, so I have sad memories. I can see the accomplishments and the tears as well. I don't think I can grab just one thing to give an explanation, I don't know if I can do that. I try to live honorably. I try to live as a musician who has really enjoyed the journey so far, despite all the ups and downs. So, it's very hard for me to answer that question (the last portion of the question). Ohh, that is very flattering, and, of course, I love drummers. I have talked to many many guys who play drums, and I just love to talk to them. I admire all drummers, no matter what age they are, I've met drummers in clinics. I have met 15-year-old kids that are going be giants in the next 20 years so. For me, it's like a big family. I like to sit on the back of the stage and talk to other drummers prior to the shows and exchange stories. Those are many things that I have really enjoyed. It's very flattering, and it has given me a larger life than what I had.
SE: Tell us more about your monthly radio show "Rock 50" WPMD that's also available on the internet.
Ward: Well it's a monthly show, and for the most part, we play hardcore metal, death metal, speed metal, and all the contemporary bands of today. I found myself becoming a fan of hardcore metal a number of years ago. It probably started, the door cracked open for me, when METALLICA did The Black Album. I sat down, and I almost thanked god that that album happened, even though METALLICA was already established. It was just such a strong, valuable album for metal. There hadn't been a lot of metal going on in the early 80's, so to speak. I just thought that this sounds like a band that really put a good, strong pillar into metal music. That's when I became a fan all over again. I also love the classic hard rock and metal before that. METALLICA just started me listening to it more and more, quite feverishly. I am a huge fan of many of the hardcore bands over the last 20 years, ya know, SLAYER, all those guys. For me, the Rock 50 show is a way for me to express and play what I want to play. That's why we are still in a closed format, because I just like to play what I want to play. I think we are the best metal show in southern California. We are current with a lot of bands, and we try to be up to date each month. We do a 20 minute segue where we will play classic bands, then go back and play bands like LAMB OF GOD, CANNIBAL CORPSE, and SLIPKNOT, or whoever it may be. Sometimes, we have a special show. I did one for 9-11. I do a Christmas show that doesn't consist of any fucking Christmas music. Our Christmas show is very serious. It's not a good time for a lot of people, and the songs I choose are actually quite serious songs that I hope brings a lot of hope to people at Christmas time, but I don't get into the "HO-HO" part of Christmas. I have seen a lot of people die at Christmas time.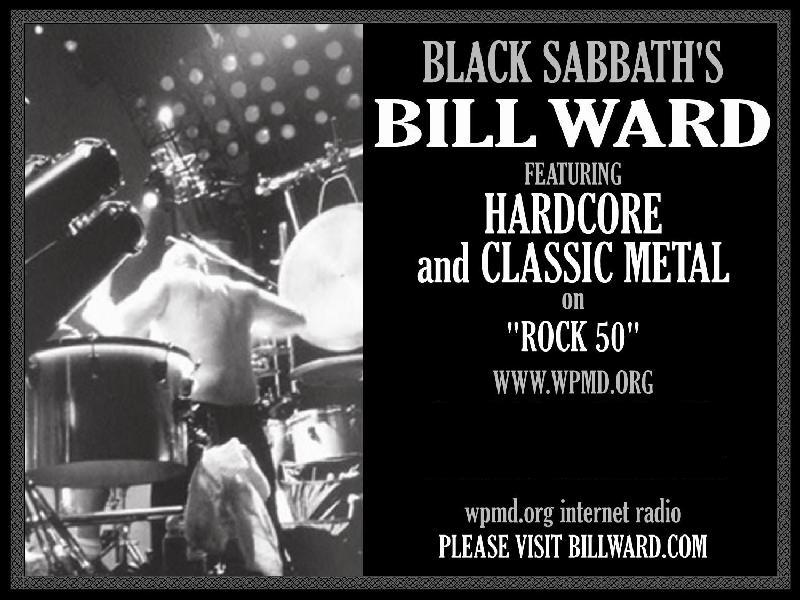 Listen to Bill Ward's monthly radio show
SE: Have you thought about going weekly?
Ward: We've thought about it, but I don't think I have enough time with my commitments. I'm doing as much as I can right now. That's why I want to go on tour with SABBATH, it takes me away from some of the things I do on a daily basis right now.
SE: You have been recording quite a bit of music. When can we expect a new solo album from you?
Ward: Hopefully this year. I'm going into the studio this morning and finishing up another mix. Let's put it this way, I'm on my final sheet of paper, so there are a few levels to change on a couple of tracks. The next stage is mastering, and we have the artwork coming together nicely too. I'm hoping we are going to get a release this year.
SE: Are you singing on the album also?
Ward: Ya, I'm singing, and we have a couple of other voices, but it's just a couple of guys doing what we do.
SE: Is it bit strange for you, being a drummer, having another drummer, RONNIE CIAGO, playing on your albums rather than you?
Ward: Ohh, not at all. Well, to be honest, it is quite a strange thing, because, first of all, I feel like I'm a songwriter, and I write continuously every day. As a singer, I have to look at myself as singers normally do. In other words, get things right and make sure my singing is as good as possible. If I have an idea about how a song should go, but can't play it myself on drums or don't want to play it on drums, I'm totally happy with having RONNIE come in and play the parts, or other drummers for that matter. As a producer, I can listen and say it sounds much better if you play the drums, and I don't mind at all.
SE: With Ward One, you had a lot of guest musicians like Eric Singer, OZZY OSBOURNE, JACK BRUCE, ZAKK WYLDE, RUE PHILIPS, and MALCOLM BRUCE. Will the new album have guests also?
Ward: On the new album coming out, it's just the band. I have an extra singer, a female singer. Her name is TINA WATSON. The album is going to be called Accountable Beasts, and I have at least five albums worth of music that I have been piling up since When the Bough Breaks. So, on the next album, there are a few different people playing it. On the 3rd album of the series, I definitely will have guests. The third album is truly in the dirt, total fucking metal. The whole thing is just cranking.
SE: You mentioned a 3rd album. Is this a trilogy concept?
Ward: Well, it's just how I got them in order, so I don't know if trilogy is the word. I have about five albums worth right now. The second album is in the mix stage, but it's done. With the 3rd album, I have all of the songs written, but not recorded yet.
SE: Do you plan on touring in support of?
Ward: I would very much like to.
SE: Do you find it easier, now, to write without drugs and alcohol?
Ward: Ohh yes. Those days are long gone for me. In the 70's, I didn't know that there was another way to live, so I thought that it was quite normal (laughs) to be completely wrecked everyday.
Note: At this point in the interview, my recorder unknowingly and inexplicably stopped. I went on to ask BILL WARD about his recordings, I then asked him what he would like to state at the end of the interview, he expressed many kind words for his fans and wanted to thank them for their appreciation, as well as for all of their support.